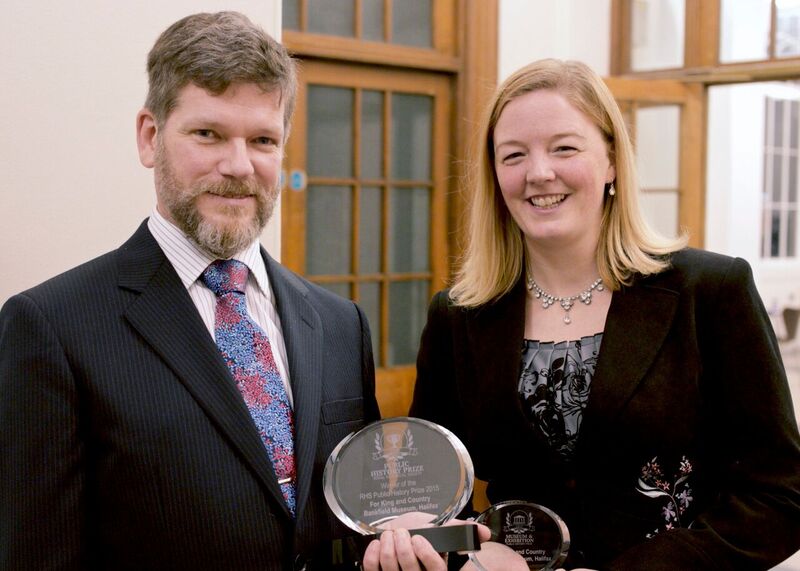 Bankfield Museum in Halifax is celebrating after winning a prestigious national award for its 'For King and Country' exhibition.
At an awards ceremony in London on Friday 27 November, the exhibition was awarded the Royal Historical Society's first ever Public History Prize, as well as winning the Museums and Exhibitions category.
The prize is intended to recognise work that improves people's understanding of the place of the past in today's social, political and cultural life. Historian, broadcaster and Professor of Early Modern History at Queen Mary, University of London, Amanda Vickery presented the 'For King and Country' exhibition with the prize, beating competition from across the country. 
Calderdale Council set up the 'For King and Country' exhibition to commemorate the area's contribution to the First World War, by sharing over 60 local stories, hundreds of objects and various archives from the Council's museum collections. Following an award of £98,800 from the Heritage Lottery Fund (HLF), the third floor of the museum has been renovated, including new display cases, brighter surroundings and the uncovering of a huge dome window in the ceiling, which was hidden for years. 
The Bankfield exhibition was nominated for the prize by a visitor from Leeds who was so impressed. They said:
"It is rare that you enter an exhibition and immediately just know that it is something very special. That it is a presentation on one of the most difficult periods of our history, one in which we should be totally ashamed of, and yet, for the first time in my life (and I am sixty-five years old), I felt at ease and drawn out by the excellence of the creation of this exhibition"
After visiting the Museum, the panel of judges agreed with this assessment, saying:
"This beautiful and moving exhibition draws on community participation, encourages independent research, and gives a helpful account of the processes by which it was produced. The clear and evocative ways in which it uses local stories and artefacts is impressive, while it also provides a balanced account of many aspects of the First World War. The exhibition is informative, engaging, well-organised and elegantly designed."
Calderdale Council's Cabinet Member for Communities, Cllr Steve Sweeney, said:
"It's fantastic news that Bankfield Museum's For King and Country exhibition has been awarded the first ever Public History Prize, from an organisation as respected as the Royal Historical Society.

"I know an awful lot of work has gone into making the exhibition an informative, respectful and thought-provoking account of the First World War. The exhibition gives a local perspective of an international conflict, and I'm delighted that this work has been nationally recognised."
Fiona Spiers, Head of Heritage Lottery Fund Yorkshire & the Humber, said:
"We are delighted to hear that this wonderful exhibition has been recognised with this prestigious award. The impact of the First World War was far reaching, touching and shaping every corner of the UK and beyond, and we are proud that thanks to National Lottery players we have invested more than £70million in projects large and small that are marking this Centenary. We are pleased that even more communities like those involved in the 'King and Country' exhibition are able to explore the continuing legacy of this conflict and broaden their understanding of how it has shaped our modern world."
The award will be on display as part of the For King and Country exhibition, which continues throughout the centenary of the War, until 2018.
Bankfield Museum is free to visit and is open Tuesday – Saturday from 10am to 4pm.