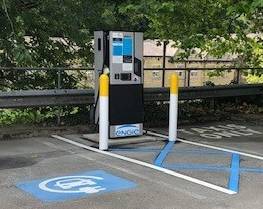 Calderdale has reached a key milestone in the fight against climate change, with the completion of 10 new electric vehicle chargepoints across the borough.
This comes as Calderdale marks national Clean Air Day on Thursday 8 October.
As the climate emergency continues, and the Council and the borough aim to be carbon neutral by 2038, the rapid chargepoints will add to the progress made so far to help limit global warming.
The new facilities are now up and running in 10 car parks throughout Calderdale. The aim is to encourage more people to swap from petrol and diesel vehicles to electric ones, helping to reduce harmful emissions and create healthier and more pleasant places.
The chargepoints are part of a joint project between the West Yorkshire Combined Authority, the five West Yorkshire councils and Leeds-based energy and services company, ENGIE, to collectively tackle air pollution and fight against climate change.
Cllr Scott Patient, Calderdale Council's Cabinet Member for Climate Change and Resilience, said:
"The climate emergency hasn't gone away, and we can still all play our part to reduce dangerous pollution. During the pandemic, we have seen how changes to our lifestyle and fewer cars on the roads can have a positive impact on the environment. We now have a real opportunity to build on that and switch to more sustainable ways of living.

"We're really pleased that all our electric vehicle chargepoints are now up and running. We hope this will encourage greater use of electric vehicles as an alternative to petrol and diesel cars, helping to create a cleaner, greener and healthier Calderdale. Electric vehicles are also cheaper to run."
Cllr Kim Groves, Chair of the West Yorkshire Combined Authority's Transport Committee, said:
"As part of our commitment to making West Yorkshire a net zero carbon economy by 2038 at the latest, we're determined to help make it easier for people to switch to electric vehicles.

"The ten rapid charge points in Calderdale, which are free for people to use, are part of a network of 88 around our region. This is just one of the ways we're supporting people and businesses to reduce carbon emissions across West Yorkshire."
Alex Bamberg, Managing Director EV Solutions at ENGIE UK and Ireland said:
"These new chargepoints will play a key role in encouraging uptake in electric vehicles and tackling air pollution to create a greener, cleaner place for people to live and work. They will also support the Council's carbon-neutral ambitions. Providing green mobility solutions is just one part of a wider strategy where we support local authorities and the public by helping shape their environment as we move towards a net-zero carbon world. We are looking forward to seeing Calderdale residents benefit from this fantastic scheme."
All the chargepoints are free to use until the end of October 2021, and parking charges will not apply whilst a vehicle is charging. People can register to use the charge points online at ev.engie.co.uk
Each chargepoint has one bay for the public to use, and another which is exclusively for taxis and private hire vehicles. A charge typically takes less than an hour, depending on the vehicle.
Rapid chargepoints are in the following car parks:
North Bridge, Halifax
High Street, Halifax
St John's Lane, Halifax
Haugh Shaw Lane, King Cross
West Street, Sowerby Bridge
Timber Street, Elland
Bethel Street, Brighouse
Parsonage Lane, Brighouse
Market Place, Hebden Bridge
School Lane, Todmorden
Since the Council declared a climate emergency in January 2019, good progress is being made to protect the environment and help limit global warming. Work includes community tree planting, natural flood management, installation of LED street lights, improved walking and cycling facilities, and plans for electric and hybrid vehicles to replace petrol and diesel ones in the Council's fleet.
For more information about action in Calderdale to tackle the climate emergency, visit www.calderdale.gov.uk/climateemergency(external link)
To find out more about the electric vehicle chargepoints across West Yorkshire and how to use them, head to ev.engie.co.uk