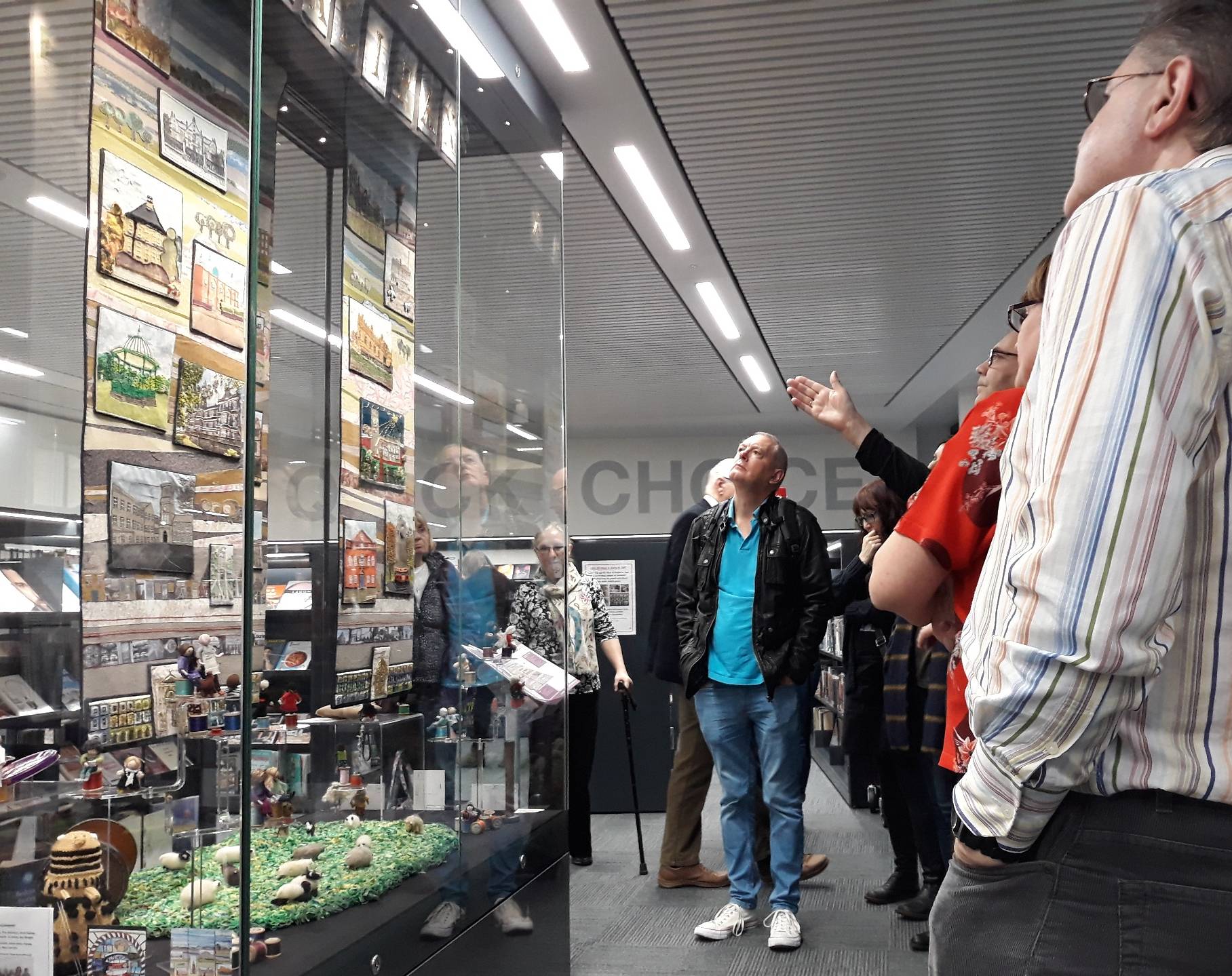 A knitted Dalek, a colourful collection of beaded Quality Street sweets and giant textile hangings featuring Halifax's iconic people and places have moved into the town's Central Library and Archives.
The textile pieces, along with many more, have been lovingly created by local people and are on permanent display near the library's entrance. They are the result of a community project to tell the story of Halifax through art.
'We All Have a Story to Tell' was funded by Arts Council England, and Calderdale Council has proudly supported local artists and communities to create a lasting celebration of Halifax, past and present.
The display was officially launched this month by the Mayor of Calderdale, Cllr Marcus Thompson, at a community gathering at the Central Library and Archives.
Cllr Susan Press, Calderdale Council's Cabinet Member for Communities and Neighbourhood Services, said:
"Halifax's rich history, famous people and distinctive landscape have inspired a fantastic textile display, helping local people and visitors to discover more about this vibrant town. The project has been a real community effort – thank you to all of the talented people who have shared stories and put hours of work and research into each and every piece."
Local artist Annie Lancaster worked regularly with a newly formed group, the Piecemakers, to create the textile artwork. Annie said:
"We have spent over three years creating the work and have enjoyed the whole process. We have formed a close group who now plan to continue working together on future projects.

"It is exciting for Halifax to have this permanent display. We have seen many members of the public stopping to look at the work, and talk about the buildings and people. Some people are reminiscing about certain buildings; others who are visiting Halifax for the first time are keen to learn more about the town."
People are invited to explore the display, uncover the many stories and see if they can spot all the local references – from the knitted Dalek representing local Dr Who scriptwriter Mark Wright, and the beaded Quality Street reflecting Mackintosh's Toffee, to the handmade characters depicting members of the Piecemakers textile group and Halifax people. The impressive textile hangings also feature iconic monuments including Halifax Town Hall, The Piece Hall, Dean Clough and Wainhouse Tower.
During the We All Have a Story to Tell project, stories have also been told through poetry, creative writing, music and film, guided by local artists. Events, workshops and school visits have inspired many local people to glimpse into the past and share their own stories and experiences.
For details of the Central Library and Archives and its opening hours, please visit https://calderdale.gov.uk/v2/residents/leisure-and-culture/libraries/your-local-library/central-library