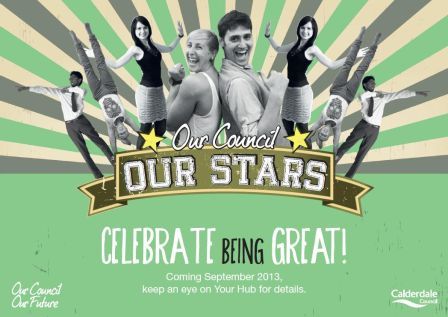 Introducing…
The amazing sponsors of the Our Stars Event.
 Each local supporter will be joining us to recognise and celebrate the amazing work, dedication and commitment we've seen within Calderdale Council over the past 12 months.
 In no particular order we have:
 The Our Calderdale Award will be sponsored by the Calderdale branch of the Federation of Small Businesses.(external link)                                            
Bringing Creative Ideas to Practical Solutions is Imagineer(external link), who are kindly sponsoring the Our Hero Award. 
Sponsoring the Our Support Award is Pure Clean UK LTD(external link), a family run business with a wide variety of cleaning services for domestic and commercial properties throughout Yorkshire and beyond. 
Lattitude7(external link), who specialise in personal development, team building and training solutions are sponsoring the Our Inspiration Award. Martin Haigh, an engaging trainer from the company, said: 
"I was born and raised in Calderdale, and have worked here most of my life. I wanted to support the Our Stars event as the Council has been very supportive, and has really helped my company Lattitude7. I received a start-up grant from the Council, and have been supported with sign-posting towards the wider business network.

"I'm really pleased to be able to sponsor the Our Stars event. I've enjoyed working with the professional people at the Council and wanted to give something back.  I'm especially pleased to be sponsoring the Our Inspiration award, as this is the ethos of Lattitude7 – inspiring business people; something that is very relevant to the concept of the Our Stars event." 
Severn Unival(external link), who offer a comprehensive range of valve products and services will be sponsoring the Our Innovation Award. 
Home Instead(external link), who provide high quality home care to people in Halifax and the Calder and Spen Valleys, are sponsoring the Our Star Award. 
And finally, we have Halifax Party Nights (external link)who are kindly providing the theatre and event decorations and props for the ceremony, and Cardelium(external link) who have supplied the balloon decorations. 
All our sponsors will be joining us for the 'Our Stars' event on Thursday 26 September. See you all then!