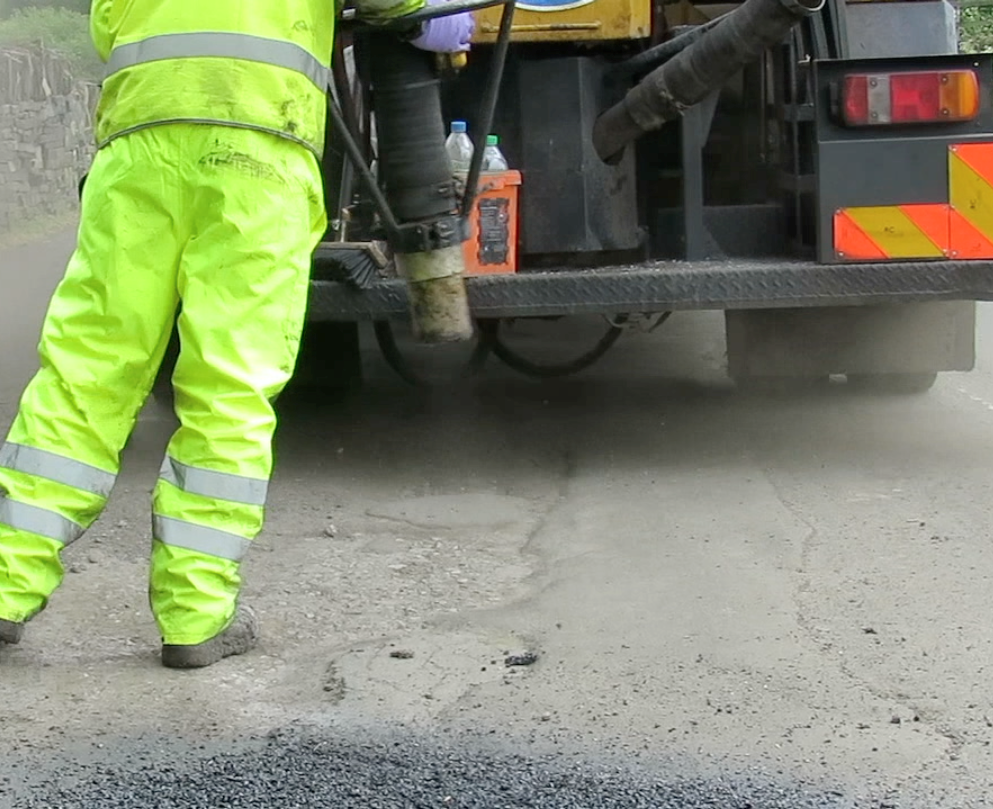 More than 2000 potholes have been filled across Calderdale so far since the Council started its blitz on road repairs last month.
In April Calderdale Council pledged to take more action to repair roads after the Department for Transport announced a £200,000 fund to tackle potholes in the borough, which had increased in number after the winter's heavy rain and freezing temperatures.
Extra teams from Jagger Construction Services Ltd and R. Holroyd & Sons Ltd have been out working on all the main A and B roads throughout Calderdale, filling potholes, surface patching and sealing road joints.
Over the last two weeks a 'Velocity Patching Machine', supplied by the company Velocity, has been out in force on the borough's rural roads. This was provided through the Council's highways maintenance contract with Amey. The machine is a fast, durable and cost-effective way to fill large amounts of potholes close together, in a process called 'Spray Injection Patching'. It blows any loose debris out of the hole and seals it with tarmac in just over a minute. 
Crews are now moving on to other roads across Calderdale in response to requests from residents.
Cllr Barry Collins, Calderdale Council's Cabinet Member for Regeneration and Economic Development, said:
"Drivers, cyclists and pedestrians can be assured that we're doing everything we can to tackle potholes across Calderdale. We're absolutely committed to making our roads as safe and long-lasting as possible. We have made good progress so far, and are benefiting from new technology to ensure a speedy and economical, but hardwearing solution. Our work will continue over the coming months."
The Council has already allocated over £3 million to repairing worn out roads. This includes £1 million to be invested in three major resurfacing schemes – the A58 Godley Lane at Stump Cross, A646 Burnley Road at Cornholme and Gibb Lane at Mount Tabor. Work is expected to start in mid-summer.
Work has also started on treatments to extend the life of 40km of road surface as part of a £1.8 million investment – this is expected be completed by the end of June. Work includes substantial improvement to the A641Bradford Road in Brighouse; the A643 from Rastrick to Brighouse; the A6033 Rochdale Road from Todmorden town centre to the boundary with Rochdale; the A646 Burnley Road from Todmorden town centre to the boundary with Burnley; and the full length of the A6026 Wakefield Road at Copley, from Bolton Brow to the Calder and Hebble junction. 
The Council carries out regular inspections of Calderdale's roads, but also encourages people to report potholes. You can report defects online.