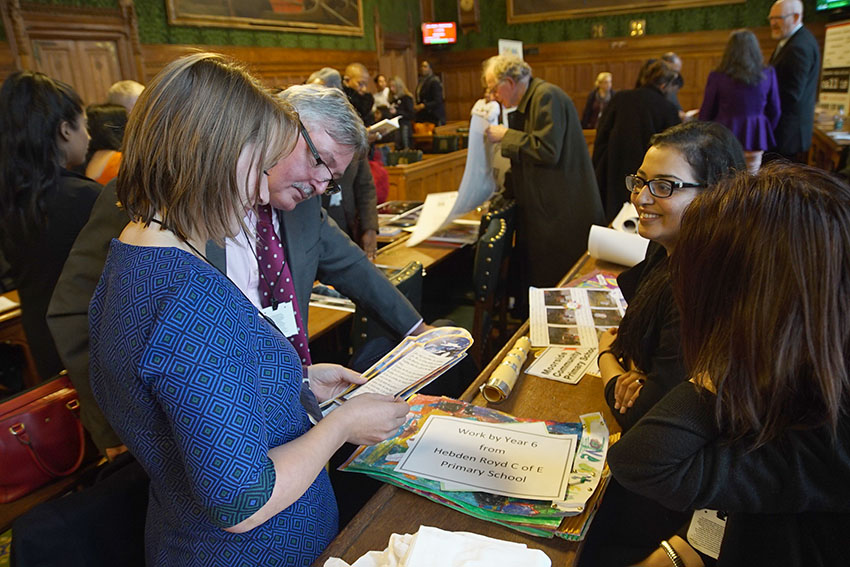 Ten Calderdale schools were invited to showcase their work on The Heartstone Odyssey recently, at a special event held at the House of Commons. 
The Heartstone Odyssey was created by Heartstone, a not-for-profit organisation which encourages children, aged from 9-12, to think about extremism, cohesion, identity, racism, tolerance.  
Representatives from schools in Calderdale, London, Slough, Luton, Nottinghamshire, Oldham and Liverpool were invited to share what they had learned during the project with MPs, Councillors and community activists. 
Calderdale Council's PREVENT Co-ordinator, Sadia Hussain attended on behalf of Calderdale, presenting the project work created by schoolchildren from Years 4 to 7.   
Calderdale Council's Cabinet Member for Neighbourhoods and Communities, Cllr Susan Press said: 
"I'm delighted we had the opportunity to share our experience of the Heartstone Odyssey at the House of Commons. 

"This is a really inspiring project which encouraged the children to think and debate the big issues which we're facing in society today.  They learned how to discuss their opinions and to listen and challenge the views of other people.   

"By highlighting our shared values the project helps to protect our children from the dangers of extremism and intolerance." 
The Heartstone Odyssey is a magical story about a mouse, the elephant Spirit of the Land and a giant serpent, and addresses issues of racism and xenophobia through poetry and art.  The children read and discussed the story and then talked about their own ideas, feelings and experiences, particularly their beliefs about justice and human values. 
Calderdale schools were amongst the first in the country to create an exhibition as part of the Heartstone Odyssey project, which was organised as part of the PREVENT programme.   
Calderdale Council's PREVENT Co-ordinator, Sadia Hussain, said: 
"This has been such an exciting project and we've all been delighted by how the schools and young people have worked so well together, getting to know each other and creating a sense of community between the schools involved. 

"When I initially approached local teachers they were enthusiastic and full of ideas. The children really valued the opportunity to have a safe space to talk about the issues and this culminated in a very popular exhibition of their work at Halifax Town Hall, a number of plays, artwork, poetry and even origami."  
The project is being extended in 2017 to schools across Calderdale. 
PREVENT is part of the UK's counter-terrorism strategy, which aims to stop people from supporting violent extremism and terrorism, in all its forms. 
To find out more visit the PREVENT section on Calderdale Council's website. 
If you are concerned that someone you know is at risk of being drawn into terrorist-related activity please contact: Sadia Hussain, Calderdale Council's PREVENT Co-ordinator on mobile: 07702 656834 or email: sadia.hussain@calderdale.gov.uk