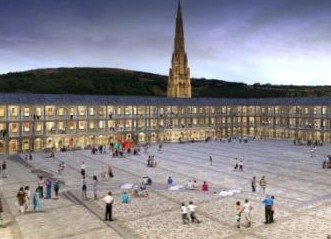 On Wednesday 11 January, Calderdale Council's Use of Resources Scrutiny Panel will meet to review progress on the Piece Hall project. 
The conservation and transformation programme at the Piece Hall is being carried out by Graham Construction with funding from Calderdale Council and a significant investment of £7 million from the Heritage Lottery Fund. The project has also received additional support from The Garfield Weston Foundation and The Wolfson Foundation.  
The first important milestone to be achieved is the completion of the construction work by Graham Construction, which is expected to be early this year.  There will then be a process that will see the handover of the Piece Hall from the Council to The Piece Hall Trust.  
The new Heritage Centre, retail units, cafes, bars and restaurants will then be fitted out, before being ready to open to the public. This will be followed by the programme of cultural and arts events soon after. 
The Piece Hall is a complex project and has presented a number of challenges and is opening later than originally planned because, typical of a Grade I listed Georgian building, there are no detailed historic drawings for the design and construction teams to use. Peculiarities have been revealed only when teams have been working on the ground, meaning plans have had to be adapted and flexible.  
The Chair of the Use of Resources Scrutiny Panel, Cllr Mike Payne, said: 
"The Piece Hall is one of the most iconic buildings in Yorkshire and there is much anticipation for the completion of the transformation work currently taking place.  

"The Panel is keen to hear how the project is progressing and learn more about the challenges faced during the course of the development which have resulted in delays and overspend." 
The meeting will be held at 6pm on Wednesday 11 January, at Halifax Town Hall.