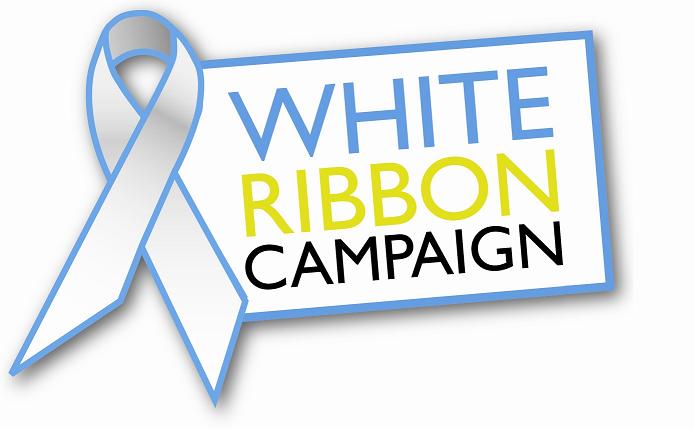 People don't have to put up with violence or abuse. They shouldn't suffer in silence – Calderdale Council and other organisations are here to help. These are the clear messages that the Council is sending out as part of White Ribbon Day on Monday 25 November – the international day for the elimination of violence against women.
 Domestic violence is a serious problem and can affect people from any part of our community. The White Ribbon Campaign(external link) is a worldwide initiative that involves men in ending violence against women – they pledge never to condone it or stand by when they know it's happening. The Council is marking its support for the campaign by emphasising its pledge to urge people to come forward about incidents and concerns, and to help prevent domestic violence in the borough. 
The Council is a White Ribbon accredited employer, which means it's committed to identifying and reporting domestic violence; engaging men in speaking out about violence; and challenging negative stereotypes. Three senior managers have pledged to be White Ribbon Ambassadors, highlighting their commitment to speaking out about domestic violence and being positive role models for other people.  
Calderdale Council's Leader, Cllr Tim Swift, said: 
"Domestic abuse can have a massive impact on the lives of victims and their families. It's not just about physical violence – it can also involve psychological, sexual, financial or emotional abuse, and other forms of controlling behaviour. 

"In Calderdale, in 2012/13, domestic violence was the main cause of homelessness – 20 of the 60 homeless people had to leave their previous home because of violence from a partner or associated person. 

"We want Calderdale to be a place where people feel safe, and we are doing all we can to tackle domestic violence. We work with other organisations to raise awareness of the issue and urge residents to speak out if they are suffering domestic abuse. Victims shouldn't suffer in silence. There's a range of places where people can get help and support – both practical and emotional." 
On White Ribbon Day the Council is holding an event at the Town Hall, Halifax from 5pm, to highlight its commitment to challenging violence against women. The Council's Leader, Cllr Tim Swift, and Chief Executive Merran McRae will open the event with speeches outlining plans for the coming year. The Council's White Ribbon Ambassadors will be presented with certificates to mark their commitment to the campaign, and will be donning high heels throughout the event to symbolise the concept of "walking a mile in her shoes" – the international White Ribbon Campaign kick-off walk. An actor from Receptive Theatre will perform a creative monologue about domestic violence. The White Ribbon flag will fly on the Town Hall throughout the day. 
Many different agencies in Calderdale are working together to tackle domestic violence. For details of where to get help and support, please visit the Domestic violence page on the Council's website.