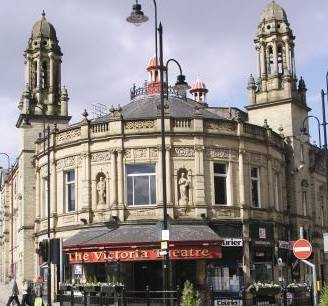 Joint press release from Victoria Theatre Trust and Calderdale Council
The Victoria Theatre Trust, in partnership with Calderdale Council, is to carry out a study of options that could help to point the way forward for the future of Halifax's historic Victoria Theatre. 
The Trust was formed in 2011 by a group of local people concerned about the possible impact of government funding cuts to leisure and arts funding and the ability of the Victoria Theatre to continue to offer a broad range of productions and access to local organisations to stage events of benefit to the community.
Supported by a grant from the Social Investment Business Limited, the Trust will undertake a study of options for a sustainable future for the theatre. In doing so, it will consult with a range of local and regional individuals and organisations. It will also seek to learn from the experience of theatres in other towns that have already been affected by the budget pressures which local councils are facing and are now operating successfully.
This pre-feasibility study will be completed by spring 2014.
Phillip Schofield, a member of Halifax Light Opera Society and Vice Chairman of the Victoria Theatre Trust is grateful to Social Investment Business for providing the money to support this initial study: 
"The Trust approached the Council with the offer of support with a view to finding the most sustainable way of securing the theatre, and the wide range of activities it supports, in the longer term. As well as a variety of professional entertainment, the Victoria Theatre provides a great venue allowing local cultural organisations to develop and showcase their talents and add to the cultural and leisure opportunities available for local communities (and those from further afield)." 
Calderdale Council's Cabinet Member for Communities, Councillor Steve Sweeney said: 
"We welcome this new partnership approach and the opportunity to review a range of ideas which will help us to maintain this historic and well-loved theatre in the heart of our community. 

"We are keen to look at new ways to improve our services to local communities. This is an exciting time for Calderdale; with the initiative shown by the Victoria Theatre Trust; major investment by Square Chapel and the transformation of the Piece Hall, we have a real opportunity to put Halifax and Calderdale on the tourist map as a significant leisure venue."