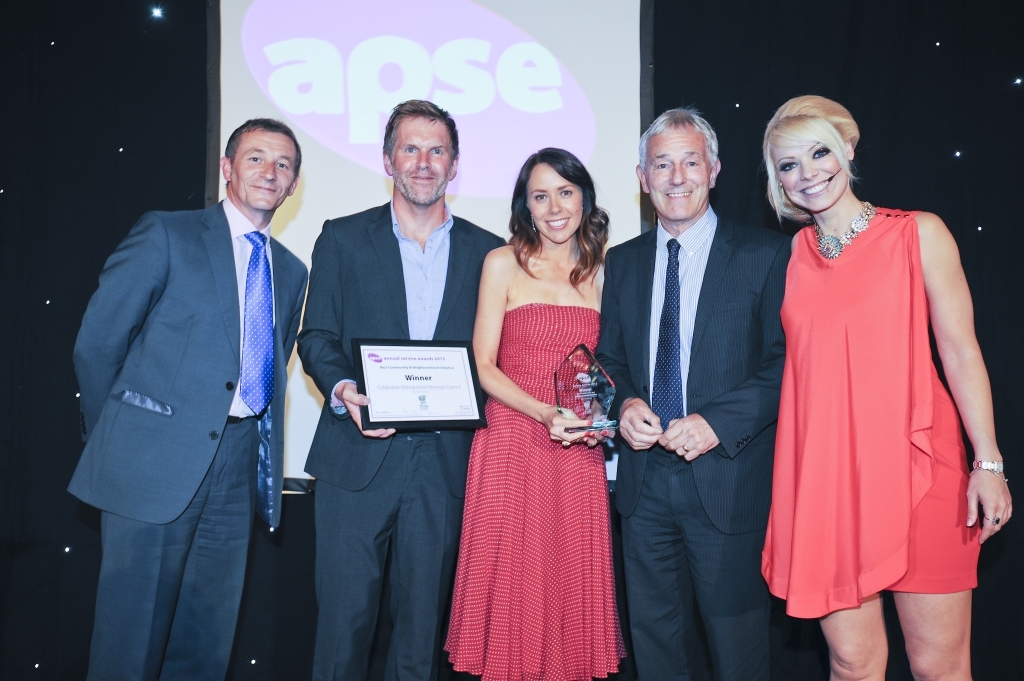 Joint press release: Calderdale Council and Totally Locally
Calderdale's Valley of Lights – a landmark event in the recovery from the summer 2012 floods – has received national recognition in the renowned Association for Public Service Excellence (APSE) awards.
Last week, representatives from Calderdale Council and Totally Locally picked up the award for 'Best Community and Neighbourhood Initiative' on behalf of all the organisations and volunteers who made the Valley of Lights celebration so special and unique.
When floods hit the Upper Calder Valley in 2012, at least 250 businesses and around 900 homes were badly affected and lots of businesses had to close for months to carry out repairs. Visitor numbers to Todmorden, Hebden Bridge and Mytholmroyd fell dramatically. In response to this, Calderdale Council made funds available for a campaign to boost the Upper Valley economy, as many businesses were fearful of not being able to stay open past Christmas. The aim was to bring in visitors to the towns to show they were firmly open for business and looking to the future with high expectation.
The Council contracted with Sowerby Bridge-based Totally Locally, who came up with and delivered the campaign. The result: the Valley of Lights extravaganza attended by a massive 12,000 people. There were three spectacular events in Todmorden, Hebden Bridge and Mytholmroyd last November, which reconnected people with their shops, businesses and towns, and created a big buzz and celebration for the area. 
 It involved huge lantern parades from Handmade Parade, fire performances, local produce and craft night markets, bands, a 150 bike 'fairy lit' ride to join the three towns, and much more. Each shop in the town was given a kit to promote their business on the nights (partly sponsored by the Community Foundation for Calderdale).
 The Council's award application for this project impressed the APSE judges because of its extremely short delivery period (six weeks from start to finish), its tremendous impact on the businesses of the valley during and after the festivities, and the huge PR effect if had for the area, which culminated in regional, national and even international coverage across TV, web and print. Many shops reported a big increase in business over the festivities, but more importantly afterwards too, some reporting their best run up to Christmas ever. Importantly, 85% of all the money spent on the event was with businesses in the Upper Calder Valley, and a further 10% was within Calderdale, ensuring maximum impact to the local economy.
Calderdale Council's Cabinet Member for Economy and Environment, Cllr Barry Collins, said:
 "Winning this nationally recognised award is a real honour for Calderdale. The Council is proud to have funded the Valley of Lights, and we thank Totally Locally and everyone in the community who made it such a huge success. It's a fine example of what can be achieved when the public, private and voluntary sectors all work together. We're continuing to work with local people and organisations to build on the success of the Valley of Lights and to help make our Upper Valley communities more resilient to flooding."
Chris Sands of Totally Locally said:
 "The biggest impact of the Valley of Lights was created by the sheer goodwill of the communities, volunteers and people who worked on the nights or who just got involved to make it such fun. There was a real word of mouth effect – people inviting friends to come and join in the celebrations and the pride of their towns. Many people travelled from Leeds and Manchester, and we even heard of people coming from Bristol and Devon! Calderdale Council was very brave to back such a huge idea on such a short time scale, but the rewards have been incredible."  
Mytholmroyd volunteer Hazel Jones Scott said: 
"We are over the moon about the award. The Valley of Lights will always be a fantastic memory and so many people still talk about it. Everyone worked so hard to bring the towns and villages something so unique and extraordinary after the floods. It touched many people in different ways."