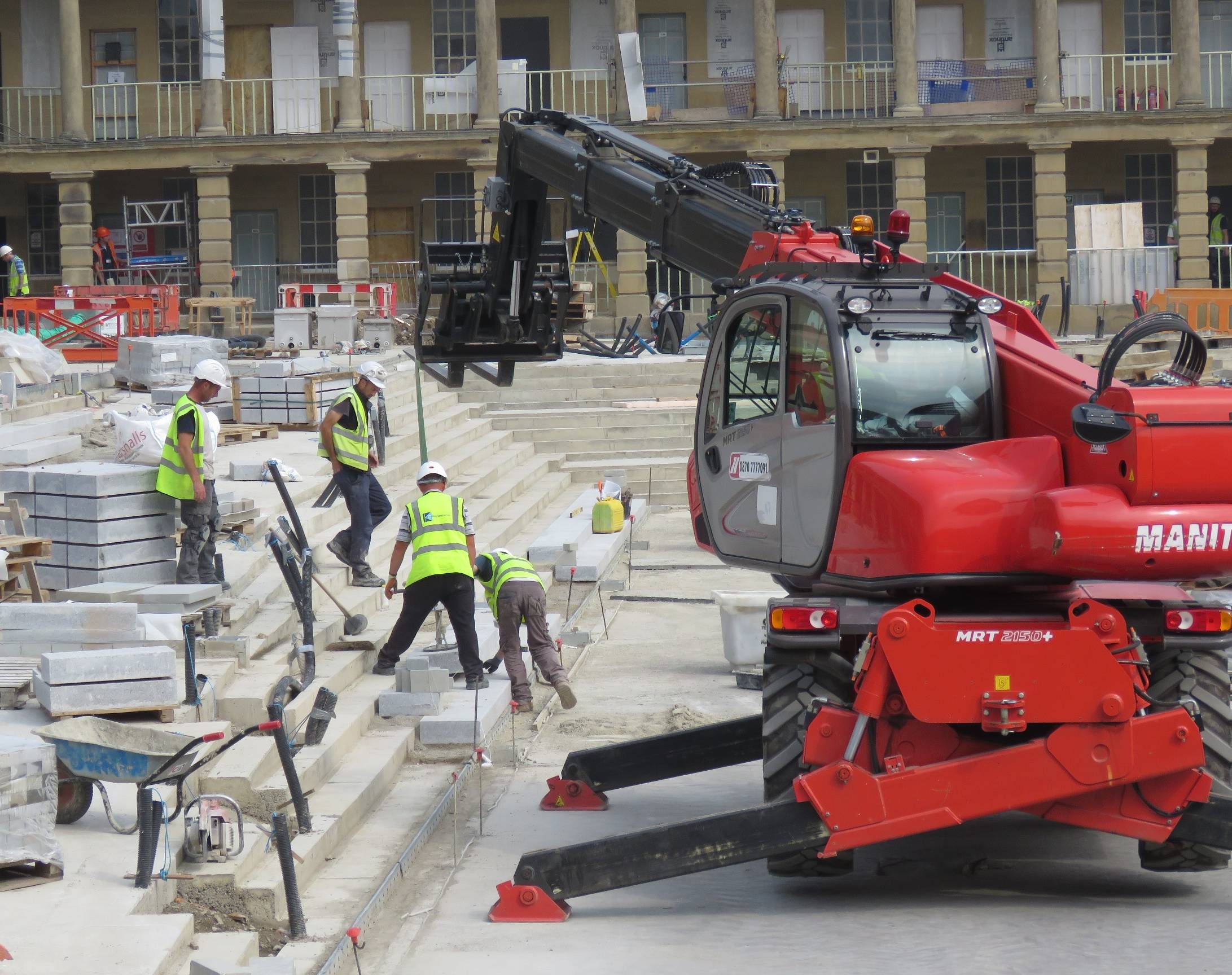 The new Piece Hall courtyard is slowly appearing as sandstone flags and European granite steps are carefully manoeuvred into place.
Gone are the old stone setts which date back to the 1970s and which are being replaced to create an attractive and sophisticated town square, as part of the £19 million transformation project funded by Calderdale Council and the Heritage Lottery Fund.
Research into the Piece Hall archives has shown that when it originally opened in 1779 the courtyard was covered in grass and gravel.  This can be clearly seen in illustrations dating from that period, which even show that sheep were allowed to graze within the former market square during the Piece Hall's history. 
The stone setts were a much later addition, initially appearing in 1871.  It is likely that even these were replaced by newer setts, taken from all over Calderdale, when the Piece Hall was refurbished in the 1970s.  This created the patchwork of setts, pavement and grass which is so familiar to recent visitors, and which have now been removed and recycled.
Leader of Calderdale Council, Cllr Tim Swift said:
"The new courtyard will be one of the most visible changes to the Piece Hall during the transformation process. 

"The combination of granite and sandstone is creating a beautiful and versatile courtyard, ideal for staging outdoor events and entertainment or simply a place where people can sit on the steps and enjoy the sunshine."
The new, even surface will be better for wheelchair users and for parents with prams and push chairs, allowing people of all ages to enjoy the attractive town square. The design and choice of material was based on feedback from the public during discussions in 2011, and then updated in 2013 with the Disability Partnership (Calderdale).
Water features are also being incorporated into the north west and south east corners, to add interest and sophistication to the square.
Gary Hughes, Regional Director at main contractor GRAHAM Construction, said:
"The renovation of the courtyard is an integral part of the overall project, and it is great to see the original vision become a reality. While the completed courtyard will look fantastic, the new structure of the courtyard underneath the quality paving is equally impressive, constructed in reinforced concrete to allow for heavy vehicles and future event installations. We are pleased that we are able to provide such a multifunctional level surface that will provide easy access for the whole community to enjoy the Piece Hall."
The Piece Hall transformation project is funded jointly by Calderdale Council together and a generous £7 million grant from the Heritage Lottery Fund. The Council is also very grateful to the Garfield Weston Foundation and the Wolfson Foundation who are supporting the scheme.
To find out more about the Piece Hall transformation project visit www.thepiecehall.co.uk(external link) or follow @ThePieceHall on Twitter or The Piece Hall Halifax on Facebook.