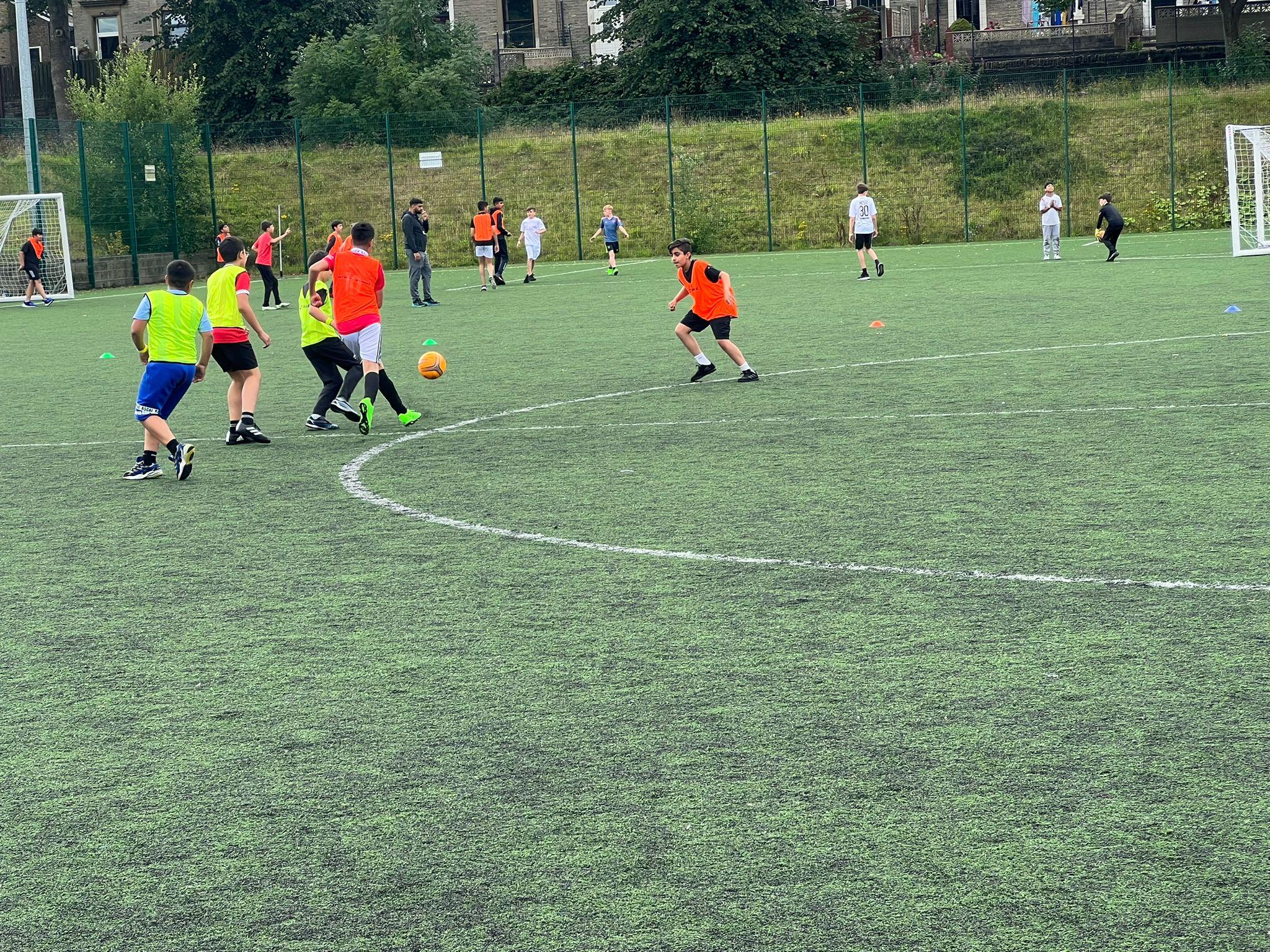 Young people across Calderdale have been able to enjoy a summer of fun, joining in with exciting inclusive play sessions, as part of the Council's Play Development Service activity programme.
The Play Development Service is part of Calderdale Council's Children and Young People's Service and offers regular inclusive play sessions in communities across the borough. The sessions are open to all young people between 5 and 14 years of age (or up to 16 for those with individual needs or disabilities) and the team includes specially trained staff to enable those with additional needs to access mainstream activities.
Over the summer break, the service held over 25 play sessions across the borough. Over 1200 young people attended and enjoyed a wide range of activities which were not only fun, but also supported health, wellbeing, development, and social skills that children need to thrive. These included:
Skateboard sessions – Young people enjoyed the opportunity to learn new skills on skateboards and scooters, many of which they'd never experienced before. The sessions, which were hosted by local company, Skate it Yourself (SIY), tested abilities and developed skills such as balance, coordination and confidence. Every child was encouraged to have a go and were a regular much-loved feature of the summer programme.
Additional sports sessions – At these sessions young people enjoyed a varied selection of sports, including curling, rugby, dodgeball and bowls. The games created healthy competition and encouraged teamwork and some children identified new talents. The fun active sessions supported hand-eye coordination, speed, spatial awareness, and overall health.
Blender bikes sessions – These sessions featured stationary bikes with a smoothie maker which spins when the bikes are pedalled, there was also an adapted bike that can be powered by moving the arms, to allow those in wheelchairs to use the equipment. Alongside the excitement of making their own smoothies, young people enjoyed the health benefits from taking part in cycling and then sampling their own fruit smoothies.
Robot creation sessions – Young people were able to create their own robots out of recycled materials. They used fine motor skills and concentration and learnt how to use tools safely, and experienced a huge sense of pride with their creations.
Football programme  – In addition to the play sessions, the service partnered with Halifax Central Initiative and supported 980 children to take part in the five week football programme. The sessions included people from 7-16 years who came together and engaged with their peers. All sessions were inclusive, fun and free. Young people made friends, challenged their potential and supported each other. The programme ended with a special match played against local policing team and youth leaders with a presentation of medals for every child and chosen trophy winners presented by Calderdale Council's Cabinet Member for Public Services and Communities, Councillor Jenny Lynn and the Council's Assistant Director of Children's Services, Diane Drury.
The sessions also supported families throughout the long summer holidays by providing hot meals for children who normally receive free school meals, as part of the Council's Healthy Holidays programme, funded through the Department for Education's Holiday Activities and Food Programme (HAF) and in partnership with the Community Foundation for Calderdale.
The play service worked with young people and staff from Project Challenge(external link), a specialist education/training provider working with 16–19-year-olds, who prepared and delivered almost 1800 meals over the six-week summer period, catering for vegetarian, vegan and Halal diets, as well as different allergies and specific requirements.
Calderdale Council's Cabinet Member for Children and Young People's Service, Cllr Adam Wilkinson, said:
"We understand that the long summer holidays can be difficult, and as the cost of living crisis continues to affect residents across the borough, we're doing all we can to offer our help through a range of initiatives.

"The Council's play development service hosts regular sessions throughout the year, but their summer sessions, in partnership with Project Challenge and the Healthy Holidays Programme, have a real positive impact on families in our communities. We've seen particularly high levels of engagement this year, from people from different backgrounds, all keen to ensure their children could take part in positive activities and enjoy healthy meals.

"An awful lot of hard work goes into organising and running these sessions and I'd like to thank all those who have supported this year's summer of fun, and all the children and families who have been involved."
To find out more, visit https://www.calderdale.gov.uk/v2/residents/education-and-learning/out-school-activities/play-development-service
ENDS