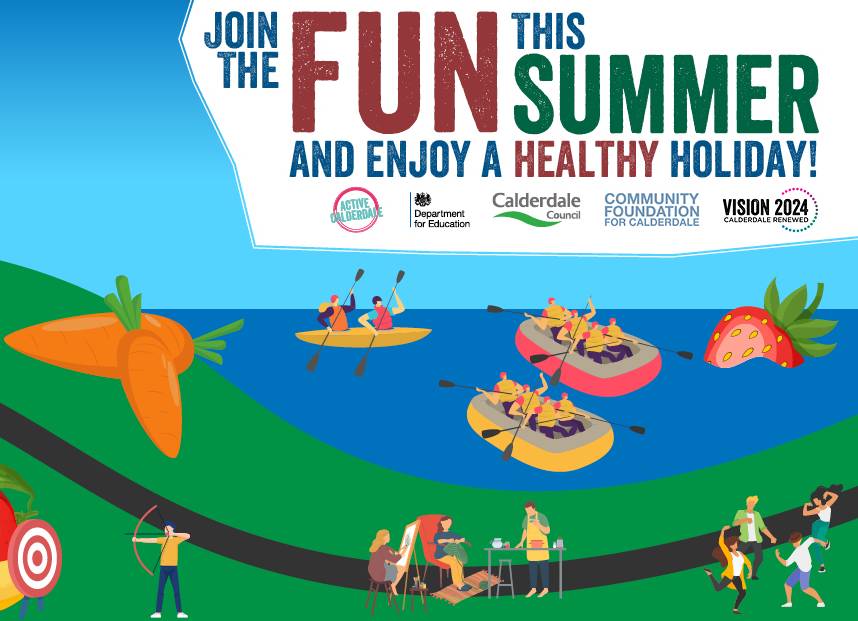 The school summer holidays are just around the corner and young people in Calderdale can take part in exciting activities, enjoy nutritious meals and meet new friends in a safe environment, as part of the Calderdale Healthy Holidays programme.
Funded by the Department for Education's Holiday Activities and Food Programme, and in partnership with the Community Foundation for Calderdale, Calderdale Council has been working with local providers to put together a programme of events for school children aged between 5 and 16 years old.
Primary and secondary school-aged children who are eligible for benefits-related free school meals can access the free holiday club places, with a variety of activities available throughout the borough.
Booking is now open for the wide-ranging programme, which offers enjoyable activities and nutritious meals delivered by a number of providers, such as schools, voluntary and community organisations, childcare providers and the Council's own sports and cultural services.
To view the programme and to book a place, visit www.calderdale.gov.uk/healthyholidays This website also includes lots of useful information to support families during the school holidays. This includes resources for food and nutrition, including low-cost meal ideas, as well as information about additional activities to help entertain.
Calderdale Council's Leader, Cllr Tim Swift, said:
"The school holidays can be a worrying time for many families, especially those who normally receive free school meals. The long summer break can be particularly challenging, and many will be facing extra pressures caused by the rising cost of living.

"The Healthy Holidays programme supports families by providing a varied programme of activities, all including a free, nutritious meal, keeping young people well-fed and entertained during the school holidays. Booking is open now and places are available to school aged children 5-16 who receive benefits-related free school meals.

"We're committed to supporting families who may be struggling financially and we'll soon be distributing the second payment of the Government's Household Support Fund Grant to low-income families in receipt of free school meals and/or Council Tax Reduction. This July payment of £50 per child, is designed to further support families over the school holidays. There's no need to apply or contact us, as all eligible families will be contacted."
Steve Duncan, CEO of the Community Foundation for Calderdale, added:
"The variety of activities on offer is growing, from zip wires to caving, crafts to dance, play gyms to sports; it's a great way to not only keep the children entertained, but provide enriching activities that will help them grow."
Every effort has been taking to ensure that Healthy Holidays activity places are as accessible as possible. It's important to let providers know about any additional requirements, to ensure that young people attending the sessions can fully enjoy the opportunities on offer.
To find out more about the Healthy Holidays programme, visit www.calderdale.gov.uk/healthyholidays, or watch the Healthy Holidays video to see the impact of 2021's programme: www.youtube.com/watch?v=EkqIx_-uVpc(external link)
Details of further support for those struggling with their finances can be found by visiting the Council's Money and Wellbeing Information Centre www.calderdale.gov.uk/mwic
ENDS