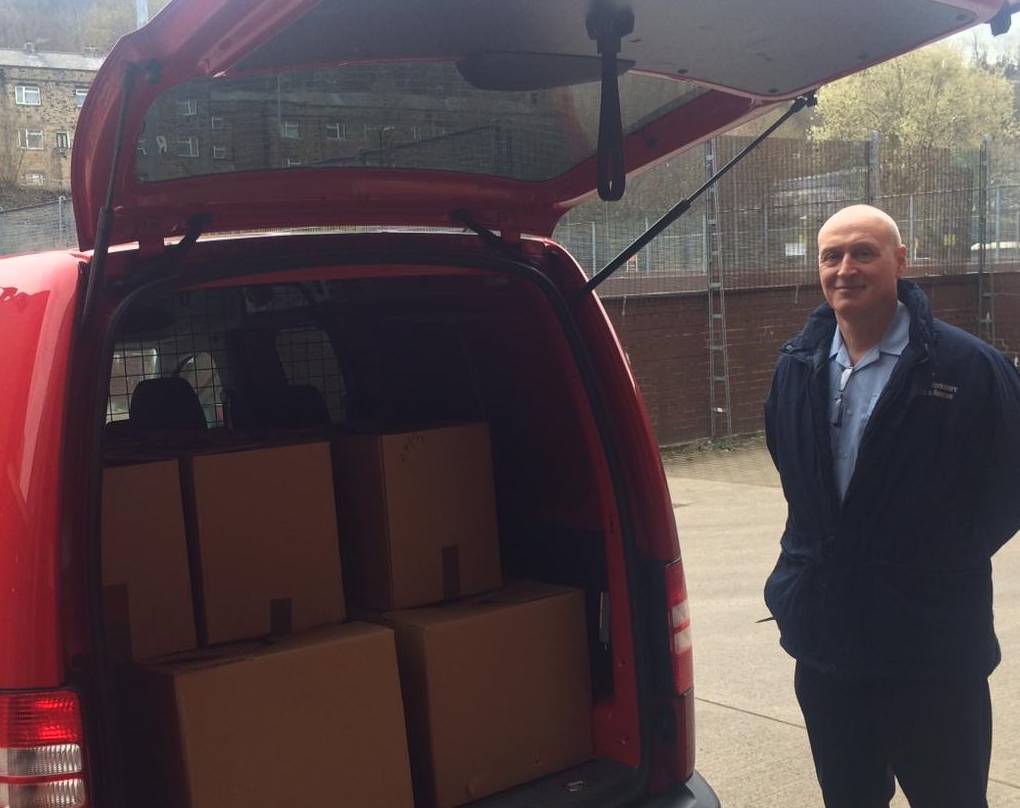 Joint press release from Calderdale Council and West Yorkshire Fire & Rescue Service:
Calderdale's kindness and outstanding partnership work continue to shine through this challenging time.
Calderdale Council, its partner organisations, volunteers, Councillors and communities all around the borough are pulling together to help people through this national emergency.
One example this week, is the joint working between the Council and West Yorkshire Fire & Rescue Service to support Calderdale residents who are most at risk from coronavirus (COVID-19).
From this week, the most vulnerable residents will receive food parcels, containing essential items such as pasta, fruit, tinned goods and toilet rolls. The Government will arrange direct delivery of these parcels in future, but the Council is arranging delivery of initial packages this week to homes across Calderdale. The people receiving the food parcels are those who have been advised by the NHS that they must stay at home for 12 weeks to be shielded, as they are extremely vulnerable to the virus.
Building on their long-standing excellent partnership working, Calderdale Council and the Fire Service have joined forces to make sure residents receive their food parcels quickly.
When delivering food parcels, Fire Service staff will take the opportunity to talk to these extremely vulnerable residents to assess whether they need any additional support, which can be provided by the Council's social care staff and amazing volunteers.
All partnership working and deliveries are taking place safely, with social distancing(external link) rules being followed at all times.
Cllr Tim Swift, Leader of Calderdale Council, said:
"I am incredibly impressed by the amazing team effort going into the COVID-19 response. Across Calderdale we're seeing examples of people coming together and doing all they can to keep our communities safe and look after our most vulnerable residents – even if it's outside their usual work role or comfort zone.

"We are extremely grateful for the support of West Yorkshire Fire & Rescue Service. At this difficult time its teams have shown great kindness and dedication to help extremely vulnerable people to get the food and supplies they need."
District Commander for Calderdale, Chris Lawton, said:
"Firefighters are ready and eager to support vulnerable people in need of these essential supplies during what are very difficult times. Firefighters are delivering the food parcels wearing personal protective equipment and will be making every effort to keep to social distancing rules. Give us a smile or a wave if you see us about, we know social isolation can take its toll, but West Yorkshire Fire and Rescue Service is always here to support the communities of Calderdale and beyond."
Photo caption: Andy Greenwood, a firefighter from West Yorkshire Fire & Rescue Service, on his way to deliver food parcels to those in greatest need in Calderdale.
For up-to-date and reliable information about COVID-19, use trusted sources such as:
www.gov.uk/coronavirus(external link)
www.nhs.uk/coronavirus(external link)
www.calderdale.gov.uk/coronavirus
The Council urges everyone in Calderdale to follow the Government guidance on Staying at home and away from others(external link). This is the single most important thing you can do to protect the NHS and save lives. As well as social distancing, you can reduce the risk of catching and passing on COVID-19 by washing your hands(external link) with soap and water often, for at least 20 seconds, avoid touching your face and follow the 'catch it, bin it, kill it(external link)' guidance.
Calderdale Council continues to work on all aspects of the response to COVID-19. At its Cabinet meeting on Monday 16 March, the Leader of the Council, Cllr Tim Swift, announced a 10-point plan detailing how the Council will respond to the risks related to COVID-19.
The Council continues to closely monitor the rapidly developing situation and rigorously follow national guidelines. All services are ready to adapt as necessary.
Keeping well, physically and mentally, is really important if you're social distancing. Your usual sports club may not be running, but there are lots of things you can do to stay active and still practise social distancing – go to https://active.calderdale.gov.uk/ for some great ideas. Equally, make sure you look after your mental health. This advice(external link) from the BBC gives you some ideas on how to do that.