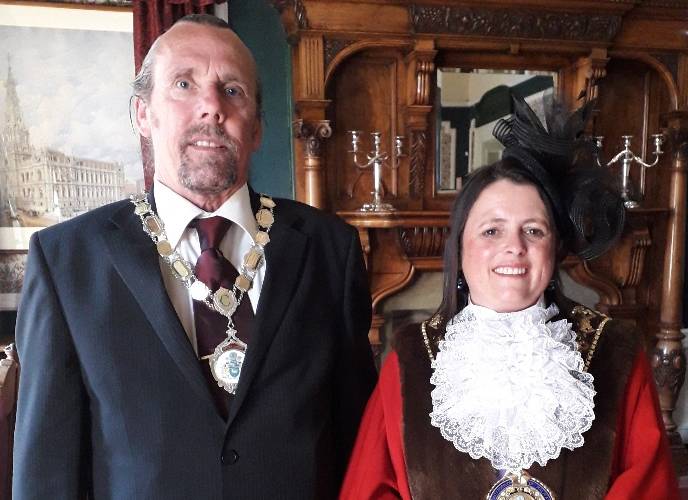 The new Mayor of Calderdale is Cllr Dot Foster and the new Deputy Mayor is Cllr Angie Gallagher.
Cllr Foster has been a Calderdale councillor since 2014 and takes on the role of Mayor from Mr Marcus Thompson.
Having grown up in Steventon near Winchester, Cllr Foster moved to Calderdale with her husband after they met working together in Bournemouth. Cllr Foster's husband Mick Foster has been appointed as Consort for her year as Mayor.
Along with her three children and husband, Cllr Foster is happily settled in Sowerby Bridge, the ward she represents as councillor.
Cllr Foster has a passion for singing and is a member of the Calderdale Council choir. This love of music helped with the choice of the Mayor's first charity for the year, The Calderdale Music Trust.
The Calderdale Music Trust provides opportunities for children, young people and adults to learn a musical instrument and make music. The Trust helps children from disadvantaged backgrounds, who wouldn't otherwise be able to learn an instrument, to discover music.
The Mayor's second charity is Happy Days, Sowerby Bridge, which supports the homeless and vulnerable to live in safe and welcoming communities and provide opportunities such as work experience, volunteering and support to help communities prosper.
The Mayor of Calderdale, Cllr Dot Foster, said:
"It's a huge privilege and honour to be Mayor of Calderdale and I'm looking forward to an exciting year ahead.

"I'm very proud to represent the community of Sowerby Bridge as ward councillor, but I'm eager to discover more of our beautiful borough and attend events across Calderdale as Mayor. I'm sure it will be a very busy but enjoyable year."
The Deputy Mayor is Cllr Angie Gallagher and her Consort for the year will be her husband, Jim Gallagher.
Cllr Gallagher was born in Scotland, but grew up in Calderdale. She has been settled in Elland for over 20 years and has been a ward councillor for Elland since 2014.
The Deputy Mayor of Calderdale, Cllr Angie Gallagher, said:
"I'm delighted to be named as Deputy Mayor of Calderdale and I'm looking forward to representing the borough at events throughout the year.

"Having lived in Calderdale for nearly all my life, I'm so proud to take on this important role and meet residents from across the borough."
To invite the Mayor to an event contact mayor@calderdale.gov.uk or phone 01422 393022.