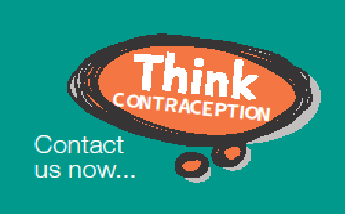 Think Contraception' – Young people are being reminded again of the importance of contraception which is part of the campaign to reduce teenage pregnancy rates. The 'Think Contraception' campaign encourages conversations about contraception and sexual health so that young people receive professional advice.
Kathy McMahon from Calderdale's School Nursing Team said:
"It's really important that we keep reminding young people to think about contraception so when the time comes for them to need it they know where to go to get expert help and advice. This is an important time of the year to remind young people about the importance of contraception as it's prom season and we know that this is one milestone in young people's lives where they begin to think about their future as an adult. "
Calderdale's Sexual Health and Contraception Clinic has recently moved premises to Broad Street and provides clinic times specifically for young people. Young people can also access their GPs for contraception advice.
Sexual Health Manager at Broad Street, Gillian Bristow, commented:
"A lot of young women when they come to us for the first time look a little nervous. It's understandable, often it's their first visit to talk to someone about their contraception needs but we make them feel comfortable. We are professionals that work in sexual health day in and day out – we talk about contraception and sexual health all day long, it's not an embarrassing subject matter at all. At the end of the appointment we often get young people telling us that it wasnt as bad as they thought and relived that they have taken the initiative to arrange their contraception, they no longer have to worry about becoming pregnant by accident"
Kate Hetherington from Lifelines Branching Out, a confidential alcohol and drug service for young people in Calderdale added:
"Alcohol (along with other substances) as we all know lowers young people's inhibitions which can often lead to unsafe sex. It is imperative as a substance misuse provider that we work alongside, and in partnership with sexual health services and other health providers to promote the 'Think Contraception' campaign to minimise risk to our young people. Having conversations with young people and making contraception accessible is what will ultimately keep them safe."
Calderdale Council's Director for Public Health, Paul Butcher said:
"Supporting young people to talk about contraception is a good thing as it means there is more awareness of the choices available and it encourages people to make decisions that suit them best. Evidence tells us that by talking through contraception we reduce unwanted teenage pregnancies."
Calderdale Council's Assistant Cabinet Member for Health Inequalities, Cllr Simon Young, said:
"It's important that young people know where to go to seek help and advice on sexual health issues. Many find it a hard subject to talk about, so we're trying to make the whole process easier and simpler, keeping young people well informed and safe."
If you want further help and advice on contraception and sexual health please call 01422 261370 or visit theSexual Health and contraception page.