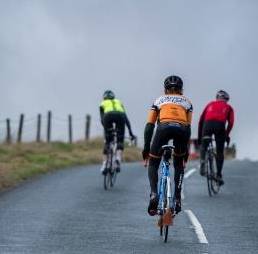 Calderdale residents are being advised to plan where they want to watch the race and how to get there, in advance of the tour weekend.  There are lots of ways of getting to the race including walking, cycling, public transport and by car.

Why not beat the traffic by walking or strolling to the route with the handy downloadable walkers' guides.  There are routes setting off from locations across Calderdale getting you to the route.  The guides are available from the 
visitcalderdale.com
(external link)
 website.

Public transport services will be enhanced in order to get you to the route.  There will be additional buses across Calderdale on race weekend with changed times, and more frequent buses on key routes.  Local train companies will be putting on additional services and extra carriages to allow people to get to the race in plenty of time.  The times and details of all the enhanced services are available from the transport providers and you can check out the times and plan your route at 
West Yorkshire Metro.
(external link)

Alternatively you can park and ride from Saville Park in Halifax with free parking for over 5,000 cars and a dedicated bus service starting at 7am.  Or why not park and stride (or bus) from Todmorden, where the High School is opening their car park for race goers.  A number of companies in the area are offering their car parks for TdF visitors and Council car parks will also be available off the route. For more information on the parking schemes and transport plans see the 
visitcalderdale 
website.
Whilst a lot of the route is accessible for disabled visitors, there are two viewing points by the side of the route which are designated disabled spectator areas. These are in Mytholmroyd, adjacent to the library at the bottom of Cragg Road next to the junction of Scout Road, and in West Vale, near to the junction of Saddleworth Road and Stainland Road.
There are also spectator hubs in Hebden Bridge, Mytholmroyd and Todmorden which will be fully accessible for disabled visitors. For more information about any of these sites visit visitcalderdale.com
The Leader of Calderdale Council, Cllr Tim Swift, said: 
"We are advising all residents to arrange their travel plans now, to make the most of the race coming to Calderdale.  There is lots of work going on around the traffic and transport plans for race weekend and regularly updated information will be available on the visitcalderdale

(external link)

website.
"Of course even with the plans we are making, there are many parts of the route where it simply won't be possible to get there by vehicle, so you do need to build in plenty of time to continue your journey from your parking space or train station."