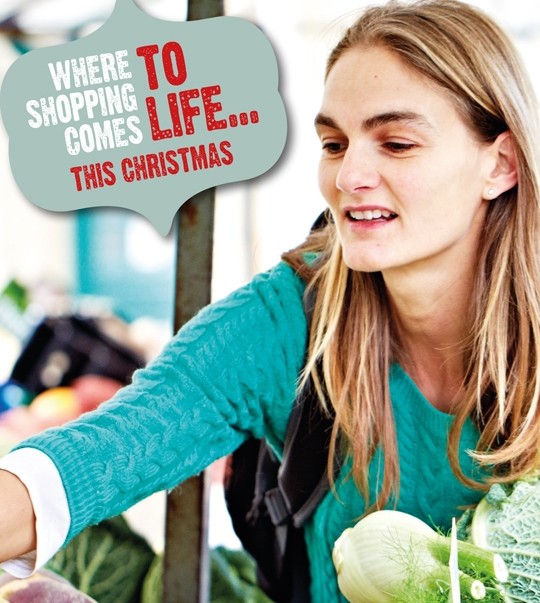 Calderdale markets need you! Not only to shop and support local businesses, but also to make them top of the list nationally. Until the end of December 2013, the National Association of British Markets Authorities (NABMA) is asking people across the UK to vote for market of the year. Simply go to www.nabma.com/vote(external link) and enter the name of your favourite!
 To help you decide, Calderdale Council has just launched a new campaign to promote the real benefits of shopping at local markets. The key message highlights that not only do shoppers receive quality and great value, they benefit from a shopping experience very different from typical chain store retailers. Shopping at Calderdale markets allows shoppers to browse at their leisure, soak in years of history and have real conversation with people who are passionate about the products they sell – bringing the shopping experience to life.
 For the festive season, there's lots going on across all markets in Calderdale. If it's local meat and produce you need, it's all here. Our friendly traders will offer advice and information about all their products and can even give a little inspiration about what to cook or buy. If it's gift ideas you're after then look no further. We're bursting with handmade jewellery, local arts and crafts and even have traders ready to show you how to make your own gifts, such as knitted jumpers and cards.
 The Council is encouraging shoppers to come and see what local markets can offer. Advertising will be placed across the borough, ranging from buses to billboards and adverts. We're even encouraging shoppers to come from other areas to sample our hidden gems this Christmas with adverts on Real Radio to bring the campaign to life.
 Calderdale Council's Cabinet Member for Economy and Environment, Cllr Barry Collins, said:
 "It's really important that we encourage people to shop at our local markets. Not only do people receive quality products that are quite often born and bred in Calderdale, they're supporting local businesses and people who work and live in Calderdale."

 Markets across Calderdale serve regular customers of all ages and from all walks of life. Margaret from Halifax has shopped at Calderdale markets for years and wouldn't shop anywhere else. Margaret says: "I shop at Halifax Borough Market every week. The stalls provide really good quality and everything I buy is cheaper than the supermarket. I think it's great value, the traders are very helpful and there's a great sense of community spirit in there. I'm always made to feel very welcome."
 Other customers who shop with us say:
"I come to Hebden Bridge market for two reasons; the quality and offers that you just can't get from supermarkets. Things like locally made cheeses, chocolates and meats that you simply can't find in bigger chain stores.

"I'm a regular visitor to Sowerby Bridge market. You can pick up a bargain, have a friendly chat with local market traders and sit down and have a coffee."
 Our market traders also feel that shopping shouldn't be dull or boring. Richardson's butchers at Halifax Borough Market say:
"When you shop at the market, you get that personal service and friendly atmosphere you don't get in a supermarket. You can also get real local produce that has been grown locally with love and care for the quality, not mass produced. Like many other market traders, our products are part of the field to fork scheme – local products direct from us to you." 
Dorothy from Todmorden market has been delivering great products and friendly service for years.
"People don't know what they're missing out on. Shopping at local markets means you can be sure that you're getting quality products from people who really care about how things look and taste. It's not always easy being a market trader but when you have a chat with regular customers and share recipe ideas with them, it gives me a real sense of achievement. I love my job."
 Colin Gledhill from Roy's Balloons at Halifax Borough Market adds:
"Local markets provide great service and great value. You'll receive that one to one shopping experience you won't get elsewhere." 
To make it even easier for market shoppers, free on street parking will be available in Halifax town centre on Thursday 12 and 19 December 2013 from 3.00pm onwards to support late night shopping arrangements.
 Free parking will also continue to be available in the following car parks on Saturdays in Halifax town centre during December:
Mulcture Hall Road
Victoria Street
High Street
Crosshills
 Free parking is also available at the following car parks to encourage local Christmas shopping until January 2014:
Brig Royd, West Vale
Royd Lane, Ripponden
Church Lane, Brighouse
Mill Lane, Brighouse
Bank Street, Brighouse
Oxford Street, Todmorden
Dale Street, Todmorden
Dalton Street, Todmorden
Haugh Shaw Road, King Cross
Queens Road, King Cross
Burnley Road, Mythomroyd
Lambert Street, West Vale and
Wakefield Road, Hipperholme
 Throughout December there are several Christmas markets taking place in Calderdale, from Totally Locally Christmas markets and local produce markets to Christmas craft markets. Shop at Calderdale markets this Christmas and let the festive atmosphere bring your shopping experience to life. For more information, visit www.calderdale.gov.uk/business/markets or call 0845 245 6000.