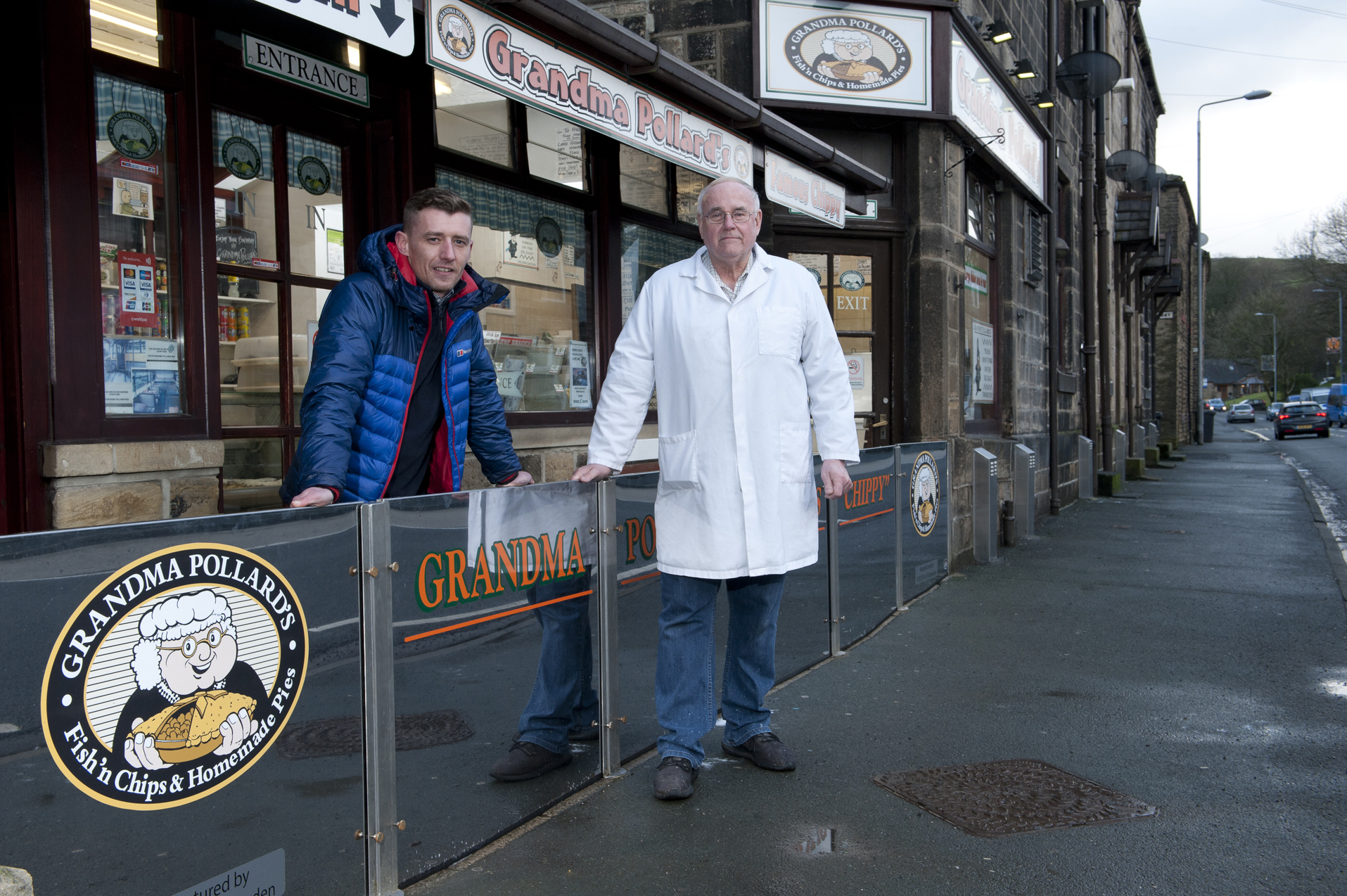 The owner of an award-winning fish and chip shop and small property company has taken steps to safeguard his property following the floods that swept through his street on Boxing Day 2015. 
Tony Pollard of Grandma Pollard's Chippy in Walsden, has purchased custom-made barriers featuring his business logo to provide protection against future flooding, with the added benefit of promoting his shop. 
He has also installed flood resilience products in the adjoining flats and houses with the help of funding from Calderdale Council. 
Calderdale Council's Cabinet Member for Regeneration and Economic Development, Cllr Barry Collins, said: 
"The Council has received approximately 1600 applications for flood resilience grants and around 1200 of these are now complete and fully paid out. Although new applications are now closed, it is good to see this funding being put to good use to help the community recover from flooding and protect against future flood risk." 
Flood resilience measures at the Pollard's property include flood doors or flood barriers for the listed buildings on the street as well as communal 'sump and pump' drainage systems and stainless steel vents on the cellar walls, some with additional pump outlets. 
A nearby gully on a privately owned, unadopted street has also been altered to reduce the risk of surface water flooding onto Rochdale Road when heavy rainfall occurs. 
Tony Pollard, owner of Grandma Pollard's and proprietor of Pollard Properties and Hamer Cain Developments, said: 
"I find it quite difficult to say how grateful we are for the financial support we have had from the Council. What else can I say other than a very big thank you from all the people that these new defences protect, together with myself." 
Faye Greenwood, tenant of Tony Pollard, said: 
"I feel so much safer now that works have been carried out to my home. The Boxing Day floods have had a lasting impact on those of us living in the Walsden Station area and it is comforting to know that something has been done to help protect tenants and our belongings the next time flooding strikes." 
Dominic Stuart, Managing Director at Steeltech Kinetix (Northern) Ltd, explained how their design for flood barriers came about: 
"Following the 2015 floods, we decided to design a set of flood barriers for Steeltech's premises. On test the design proved successful, and so was used to manufacture barriers for our own doors. 

"The word spread locally and since then we have worked on the design to create a better and more cost effective product for the local community. The barriers are manufactured from stainless steel including the runners and specially sourced locking screws.

"Our work for Mr Pollard included making bespoke flood barriers for several properties including his famous chippy. We also manufactured bespoke vent covers for each property with fittings to enable water pumps to be attached if needed." 
Property owners are reminded of the importance of giving their flood plan a 'dry run' – ensuring information is up to date and keeping resilience products well maintained to ensure that they function effectively in the event of a flood. 
Further guidance on property level protection can be found on www.eyeoncalderdale.com(external link) and www.bluepages.org.uk(external link).