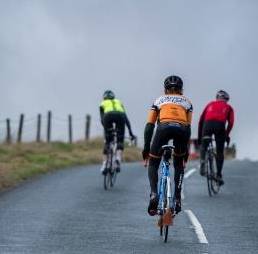 Residents in Calderdale have seen a number of new signs springing up around the borough, as the final touches are put to the signage along the Tour de France route before the race cycles through Calderdale on Sunday 6 July.
Work started last week to put up 10 new Tour de France waymarking signs across Calderdale, starting at Cockhill and finishing at Ainley Top, which will indicate the race route throughout the borough.
Residents and visitors will be able to spot the brown signs as they appear along the route. There's also the chance to win 10 fantastic Inner Cyclist t-shirts for the best photo of each of the new signs. Tweet your photographs to the Council's cycling Twitter account @InnerCyclist(external link) as they appear, and keep checking back to see which photographs we're missing for your chance to win!
Waymarking signs will mark out both stages 1 and 2 of the route across Yorkshire. These signs will remain in place for the next three years allowing residents and visitors to the borough to cycle, walk or drive all or part of the route. The waymarking signs are part of the overall planning process for the race weekend and beyond.
The Leader of Calderdale Council, Cllr Tim Swift, said:
"These signs will allow residents and visitors to enjoy the route for years to come, and are a fantastic way to show some of the amazing cycling on offer in Calderdale. 
"Calderdale is a great place to cycle, for all ages and abilities, and the wayfinder signs will help people follow the tour across the region."