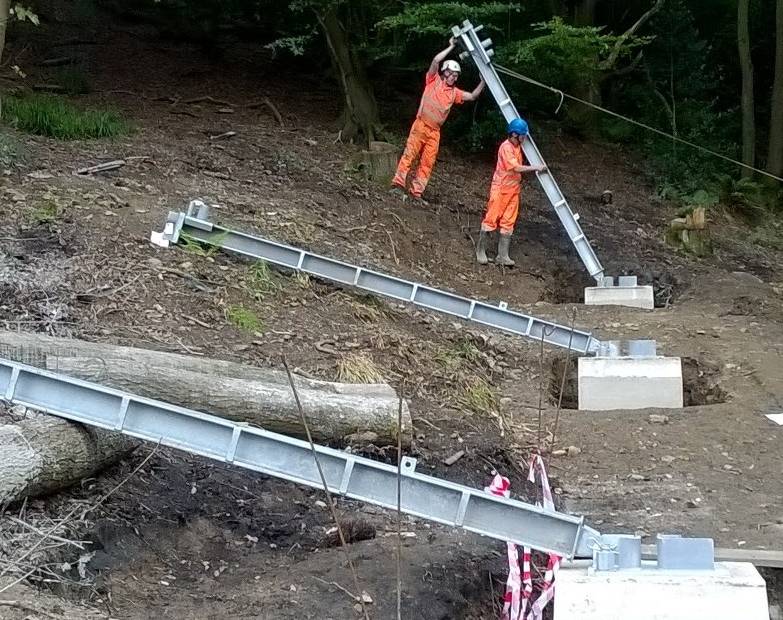 Work to allow flood affected Scout Road in Mytholmroyd to reopen is now in its final stages as a safety fence is being installed, offering protection for those using or living on the road. 
Storm Eva on Boxing Day 2015 caused a landslip which blocked Scout Road. This led to the relocation of Scout Road Academy students to another nearby site. The residents of nearly 20 houses were also advised to leave their homes for safety reasons. 
The problems as a result of the landslip were made more complicated after it was found that asbestos had been exposed. This required specialist contractors to monitor and work at the site, to ensure this didn't present a further risk to safety. Now the work to cover the asbestos is complete, the specialist fence can be installed which will catch any material in the unlikely event of a further landslip. 
The steel fence, which has been imported from Switzerland, is 250 metres long and 3.5 metres high, and is reported to be one of the longest fences of this style anywhere in the UK. 
The fence should be in place for the end of October and will remain while construction work to permanently stabilise the hillside takes place later. This is currently planned for spring 2017. 
Calderdale Council's Cabinet Member for Regeneration and Economic Development, Cllr Barry Collins, said: 
"We know that since the landslip occurred it has been a really difficult time for residents, pupils and staff at Scout Road Academy and for motorists wanting to use the road. 
"I'm pleased that we're now at the point where we have started work on the safety fence which will allow the road to reopen and for people to be able to return to normality while we work on a permanent solution to secure the hillside."