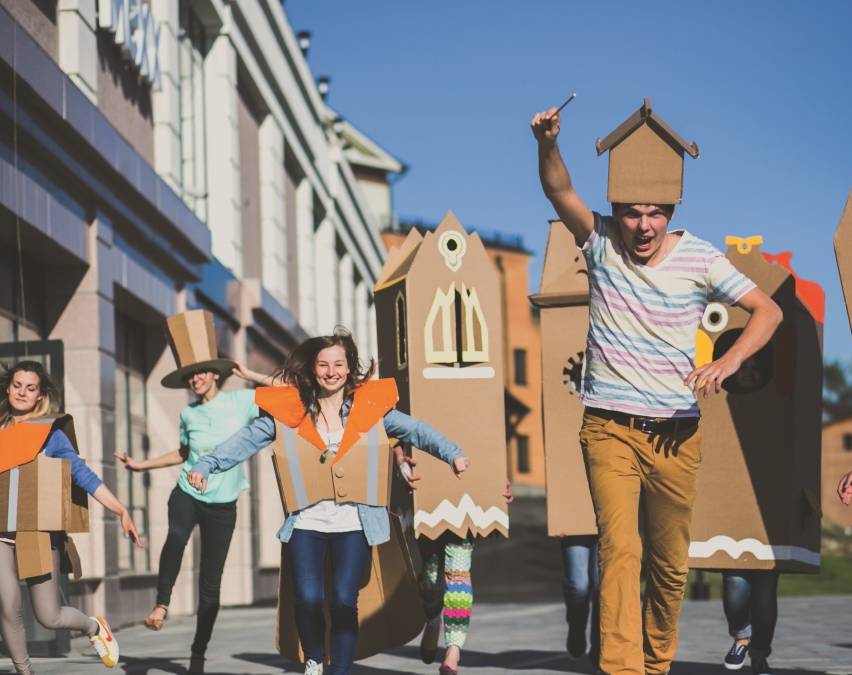 Events in Calderdale for this year's Yorkshire Festival are happening six months after floods devastated villages and towns in the borough, showing how Calderdale's creative spirit hasn't been dampened by the floods.
The Yorkshire Festival 2016 will see music, dance, theatre, art, street performances and much much more, right across the county in a wonderful celebration of creativity.
The Festival launched on Thursday 16 June and Calderdale is playing host to a packed programme of events, including Handmade Parade and Cardbordia, which this year will have the theme 'muck in', capturing the spirit of the Boxing Day 2015 floods.
Handmade Parade and Cardbordia will take place on Sunday 26 June in Hebden Bridge. This spectacular event will have a truly international feel as the local parade team of world class artists, musicians and performers are joined by Russian artists from Cardbordia. This free event will start at 12 noon with a mini festival in Calder Holmes Park from 1pm – 4pm. Please see www.handmadeparade.co.uk(external link) for further information
Also starting this weekend is the Hebden Bridge Arts Festival from Friday 24 June – 3 July 2016.
Hebden Bridge Arts Festival is once again packed with an exciting variety of events for everyone to enjoy. This year, Yorkshire Festival supports a number of the events, including Recorded Delivery, award winning writer, artist and Huddersfield postman Kevin Boniface takes to the road to produce a series of monologues (audio and visual) about the people and places he encounters on his rounds. Look out for the Recorded Delivery QR codes and download Kevin to your smartphone.
Please see www.hebdenbridgeartsfestival.co.uk(external link) for the full programme and further information.
Another Yorkshire Festival event in Calderdale is IOU Theatre's Future/Past, taking place in various locations from 23 June – 3 July with free admission.
Halifax based IOU celebrates its 40th anniversary with a launch of a brand new art space at Dean Clough Mills designed by local architectural practice Gagarin Studio. A series of multimedia shows will take place along the Calder Valley, starting at IOU's new Studio, Gallery and Making Space, and travelling along the valley to the Hebden Bridge Arts Festival and on to the Unitarian Church in Todmorden, IOU will show three popular installations as part of the celebrations.
Please see www.ioutheatre.org(external link) for further information.
Calderdale Council's Cabinet Member for Neighbourhoods and Communities, Cllr Susan Press, said:
"The Yorkshire Festival events are fantastic additions to the events and festivals taking place in Calderdale throughout the summer. It's especially relevant that this celebration of creativity is happening six months on from the floods in Calderdale, showing how the area has bounced back.

"There's so much going on, with such a diverse range of events, there's bound to be something for everyone. The Festival will be a spectacular experience with a packed programme celebrating the strength of the arts across the region."
To find out more about what's happening in Calderdale pick up a festival brochure from your local tourist information office or go to www.visitcalderdale.com(external link)
You can get more information about all the Yorkshire Festival events and latest ticket offers from the dedicated website www.festival.yorkshire.com(external link), by 'liking' the Yorkshire Festival page on Facebook or by following Yorkshire Festival 2016 on Twitter – @YorkshireFest.