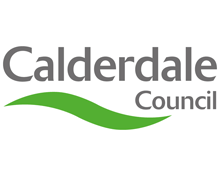 Young people are picking up their paintbrushes and grabbing their gardening gloves to brighten up Todmorden town centre. 
16 and 17 year olds from across Calderdale are painting a nature-inspired mural on the hoardings at Bramsche Square, and are creating a garden for local people to enjoy.
 It's part of the National Citizen Service – a countrywide volunteering scheme for 16 and 17 year olds, which Calderdale Council's Youth Service is running locally. Teenagers from Mixenden Activity Centre and Todmorden Youth Group who are involved in the scheme recognised how important it is for local people to have a town centre they can be proud of, so they chose Bramsche Square as their volunteering project. They're working with local artist Taz Braischer and Incredible Edible to 'paint the town green' and create a space that the whole community can use. 
The young people are spending four Saturdays on the project – they started on 9 November and are due to finish on 30 November. They're busy sprucing up the hoardings, clearing litter, removing dead trees, weeding, creating raised flower beds and planting new trees. 
The scheme is funded by national Government, and it was the recently created Todmorden Development Board that gave the go ahead for the work at Bramsche Square. Cllr Barry Collins, who chairs the Board, said:
 "We know that Bramsche Square in Todmorden has needed cheering up for some time, and the young people's brilliant work will give the area the vibrancy it deserves. Local people will see a real difference when the work is finished – everyone will be able to enjoy the dazzling mural and inviting garden area." 
Calderdale Council's Cabinet Member for Children and Young People's Services, Cllr Megan Swift, added:
 "It's great to see young people getting involved in their local community, working together to make a difference to other people's lives as well as their own. The Council is supporting the National Citizen Service so that youngsters can learn important skills and help out their communities, whilst having fun and making new friends. The work they've done so far is fantastic."
 For more information about the National Citizen Service, visit www.ncsyes.co.uk(external link)