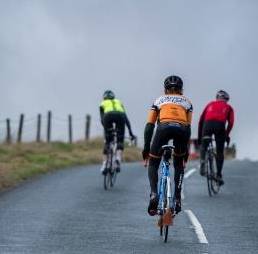 Residents and visitors to Calderdale can now plan their movements for the Tour de France weekend, as the race timings have now been confirmed.
The publicity caravan is expected to arrive in the borough at approximately 11.45am starting at Cock Hill (Cote D'Oxenhope Moor). Setting off about two hours ahead of the riders, the spectacular caravan makes its way along the route distributing freebies to spectators. It is normally about 200 vehicles long and takes about 45 minutes to pass. The sponsorship vehicles hand out lots of goodies to the waiting crowd – that's a lot of free stuff to get your hands on!
The peloton is expected to enter Calderdale at around 1.30pm – depending of course on how quickly they are progressing, they may be slightly earlier or later
Roads will be closed in Calderdale from 6.30am so the route can be prepared by installing barriers, deploying stewards and volunteers and carrying out minor street works to make the route safe for spectators, vehicles and the riders. From 10.30am, the route is handed over to the race organisers, Amaury Sports Organisation (ASO) who will then check the route and prepare for the arrival of the caravan and the race.
Spectators are being advised to get in position early as the roads will be cleared of both pedestrians and cyclists around 30 minutes prior to the caravan arriving. During the Tour de France weekend there will be a lot of extra traffic on the roads across Yorkshire so plan your journeys carefully.  Allow extra time to get around especially if you are travelling or living close to the route.
Calderdale Council's Director of Communities and Business Change, Robin Tuddenham, said:
"The Tour de France is the world's largest free sporting event and lots of planning is going into making this an amazing spectacle.  We are releasing information about the race timings to allow residents to plan ahead for the day, and make the most of the biggest sporting event ever to come to Yorkshire."
For further information about the Tour de France weekend, please go to http://www.visitcalderdale.com/(external link), which will be regularly updated with further news to help you plan your weekend.