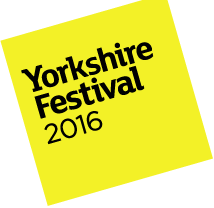 The ambition to host a world record breaking dance event is among the first commissions revealed today for the Yorkshire Festival 2016.
Big Disco will see the world's largest disco ball (10m diameter), on loan from Bestival, suspended from a crane above Duke Studios in Leeds while more than 20,000 people dance to the same track, at the same time, at parties across Yorkshire.
Festival organisers, in collaboration with Duke Studios(external link) and NEWSUBSTANCE, want to set a world record with an event that will see the public vote for the winning disco track chosen from a top ten selected by DJs and clubs. This will start the county dancing at 7pm on 1 July.
Little Disco, a kit with everything needed to join the world's biggest party, will be sent out to anyone who wants to get involved.
In Sheffield on 25 June, French and Basque performers Les Commandos Percu & Deabru Beltzak come together in an explosion of fireworks, percussion and dance.
Danbor Talka – Clash of Drums(external link) will see musicians parade through the crowds before performing in an enormous pyrotechnic display sending fireworks blazing across the sky.
In Bradford there will be a UK-exclusive performance by The Nile Project(external link) featuring an incredible collaboration between musicians from 11 countries along the Nile. Described as 'euphoric' by the New York Times, this European premiere will raise the roof of the Alhambra on 18 June.
Artistic Director, Matt Burman, said:
"These bold, energetic and exciting shows are just a flavour of what's coming to Yorkshire next summer. We're thrilled to be creating such a game-changing festival. We're looking forward to showing off our epic landscape, our world class buildings and bringing these incredible performers, musicians and artists to the people of Yorkshire and the world.''
These are just three of the hundreds of performances set to fire up the county over 18 days from Thursday 16 June to Sunday 3 July 2016.
Welcome to Yorkshire Chief Executive, Sir Gary Verity, said:
"Yorkshire Festival 2016 is shaping up to be one of the most exciting cultural events to ever come to our county. We would urge the public to show support, enjoy UK first performances and help set world records right here in Yorkshire. This is set to be an unforgettable summer!"
David Lascelles, Earl of Harewood, Chair of the Yorkshire Festival added:
''The three acts announced today will guarantee audiences a real spectacle and are a taster of the variety of world class talent the festival will bring to Yorkshire next year.''
The Yorkshire Festival 2014 was the first ever cultural festival to precede the Tour de France in its 111 year history. It generated close to £10 million for the county's economy and attracted over 800,000 attendances at more than two thousand events and exhibitions, with around 18,000 people taking part.
The biennial Yorkshire Festival was created by Welcome to Yorkshire and has been awarded £1million for the 2016 event from the Government through Arts Council England as part of the Northern Powerhouse initiative.
For more information follow on Twitter @YorkshireFest or on Facebook yorkshirefestival