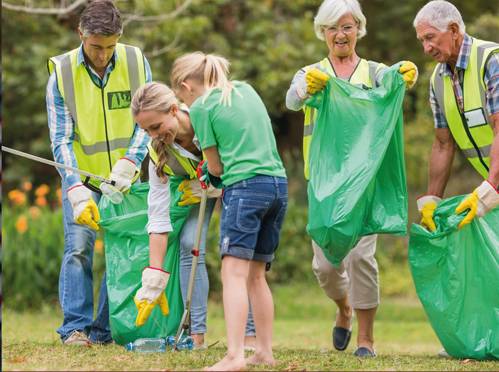 Calderdale Council is getting involved with the Great British Spring Clean – a national campaign aiming to get half a million people out about cleaning up their local communities in March 2017. 
The brand new Great British Spring Clean will roll out for the first time in 2017, with a view to it becoming an annual event, helping to bring people together and clean up the country. 
Council teams will be out and about from Friday 3 March, taking part in targeted clean up events across the borough. 
         Halifax Central – Friday 3 March – 9.30am – 12noon at Queen's Road Playing Field. 1-2.30pm at Old Lane, Halifax. Second team at Mixenden Urban Park from 9.30am-12noon.
        Upper Valley – Monday 6 March to Wednesday 8 March (weather permitting) 9am to 3pm– removing rubbish from Oldham Road (A672) from Ripponden to Junction 22 of M62.
         Lower Valley – Monday 6 March from 9.30am – litter picking at Clifton Lagoon.  Tuesday 7 March from 9am – removing rubbish at Field Lane Estate, Highfield Road shops.

 
Anyone is welcome, and bags and litter pickers will be provided. It's recommended that volunteers wear sturdy shoes and gloves if picking any litter by hand. 
Calderdale Council's Cabinet Member for Planning, Housing and Environment, Cllr Daniel Sutherland, said: 
"Litter remains a huge problem across the country, causing harm to the environment and wildlife, with councils in England having to spend over £700 million on street cleaning services every year.  

"High profile events like the Great British Spring Clean raise awareness of the problems related to littering, and the costs of cleaning it up. I hope it acts as a reminder for people to think twice before dropping litter or fly tipping." 
Calderdale Council's Cabinet Member for Neighbourhoods and Communities, Cllr Susan Press, said: 
"'Council staff and volunteers take part in clean ups all year around, with recent events held in Elland and at Scarr Wood in Halifax. These sessions have been really successful, and staff have received lots of positive comments and praise for the difference the work has made. 

"I hope the Great British Spring Clean is just as successful, with people arranging their own events as well as helping out with Council clean ups." 
For those wanting to get involved, or perhaps organise their own local clean up, #GBSpringClean branded rubbish sacks and litter pickers are available at Spring Hall Mansion, Halifax from Friday 3 March. Email parks@calderdale.gov.uk to reserve these resources. To take part in the campaign and set up your own clean up event visit www.greatbritishspringclean.org.uk(external link)