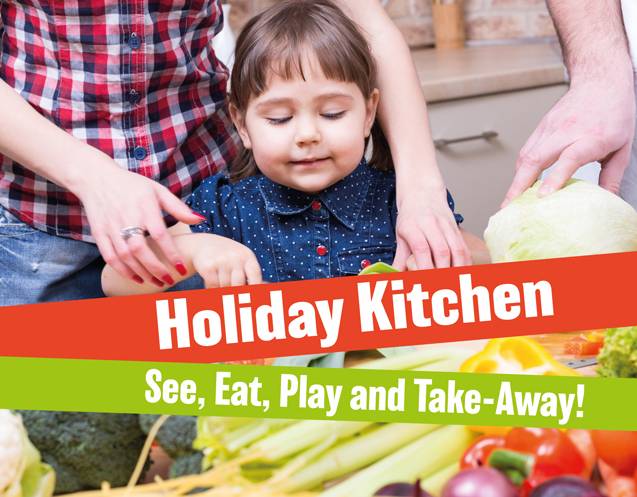 Get set for some dinnertime inspiration this summer as the Holiday Kitchen rolls in to town showing families how to make great tasting family meals that are good for body and wallet.
For five weeks every Monday families will join the Holiday Kitchen Team at Ash Green Community Primary School for arts and crafts activities, games and a live cookery demonstration led by award-winning chef Tony Mulgrew from Ravenscliffe High School and Sports College.
Everyone will come together at lunchtime to eat the food prepared by professional chefs and at the end of the session every family will be provided with all the ingredients to take away and make the same meal again at home.
A key feature of the project is that adults and children take part in the sessions together.
Tony Mulgrew said:
"It's really important that kids learn early how to make healthy food choices for themselves when they grow up. Preparing and cooking your own meals can be cheaper and because it's easier to control what goes in to your meal, it can be healthier too."
The Holiday Kitchen pilot has been funded through a grant from Community Foundation for Calderdale and is a joint project by Calderdale Council, the 'Money in Your Pocket' project developed in partnership by MAW (Making Advice Work) led by WomenCentre; Christians Together Calderdale, North Halifax Partnership, North Bank Forum (Sector Support Calderdale), Ravenscliffe and Ash Green Schools, Ash Green Children's Centre, Citizens Advice Calderdale, Freshfields Foods Ltd and the Food for Life Chefs network.
Mungo Sheppard, Head Teacher at Ash Green Community Primary School, said:
"I'm really pleased to support Tony and the Holiday Kitchen coming to Ash Green this summer. Providing those extra meals during school holidays can be a real financial strain for many families who normally receive free school meals and the Holiday Kitchen will help many of our families with lots of cheap and tasty ways to eat well for less."
Cllr Susan Press, Calderdale Council's Cabinet Member for Neighbourhoods and Communities, said:
"We're delighted to be supporting this scheme as part of our continued commitment to helping families cope financially in difficult times when new changes to the benefits system are set to make things even more challenging for people on a limited income."
Cllr Faisal Shoukat, the Council's Cabinet Member for Public Health and Inequalities, added:
"This is an important part of our work to make good food the easy choice for everyone. We want Calderdale to be a healthier place, and encouraging people to eat more nutritious food is one of our priorities."
Holiday Kitchen takes place every Monday from 25 July 2016 at Ash Green Community Primary School – Lower Site – Mixenden Road Mixenden, Halifax, HX2 8QD
Admission is free but places must be booked through Ash Green School or North Halifax Partnership on 01422 255402.
Twitter: #holidaykitchen