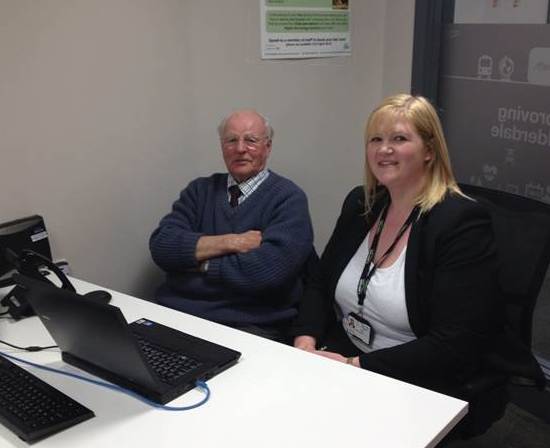 Using online services has never been easier, as Calderdale Council launched its first ever Spring Online event.
The innovative event was hosted by Halifax Customer First at Horton Street. Spring Online Week is a national award winning initiative that makes it possible for thousands of people, often older people, to try using computers and the internet – many for the first time.
The project aims to introduce people to the world of technology at a local level, by supporting outlets to open their doors and hold taster sessions. Calderdale residents have had the opportunity to attend free sessions to help inspire them, and achieve a lasting knowledge of the internet.
As well as general overview of the internet, participants were given a tour of Calderdale Council's website where they could see for themselves how easy it is to do business with the Council online. Calderdale Council has worked hard to ensure they have a successful and effective web presence that enables all Calderdale residents to achieve their tasks simply and in the ways most relevant to them.
They were particular impressed with how easy it is to manage their Council Tax account online, viewing their bills or setting up a direct debit and were pleased that whether they use a desktop computer, tablet or smartphone, they will get a website experience enhanced for that device.
Calderdale Council's Cabinet Member for Communities, Cllr Steve Sweeney, said:
"Taking the first step in learning about computers and the internet can be daunting, but the Spring Online initiative has made the web more accessible and opened up a new world of possibility for the participants.
"Being able to manage accounts and access services online is a really useful skill. The Calderdale Council website is easy to navigate on any device, so those who took part in Spring Online can easily continue to use the knowledge they gained from the course, either on the go, at home or at Customer First offices."
Mr Williams, 82 from Calderdale, attended the event and commented:
"It's given me the confidence to give it a go myself at home"
All the Council's Customer First offices have PCs available for anyone to use to access councils services, with help and support available if it is required. Find out how you can save time and 'Do It Online' by visiting www.calderdale.gov.uk