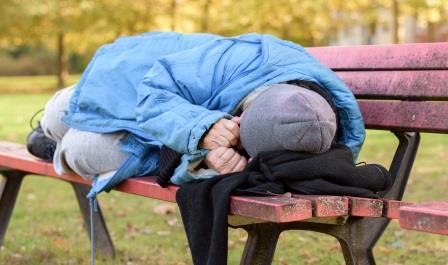 During the recent cold weather, Calderdale Council has been making sure that any rough sleepers know the help that is available to support them.
No one in Calderdale needs to sleep out in cold weather.
A recent rough sleeper count across the whole borough, found six people were sleeping rough. This figure can obviously vary, but regardless of the weather Council staff and colleagues in the Police actively search for anyone who is sleeping outside without shelter and offer support.
During cold weather, supporting rough sleepers is a priority for the Council's Community Wardens, who approach and engage with anyone they find to be sleeping rough in the borough. The wardens will offer assistance and advice to anyone needing help and refer people to temporary accommodation such as the Winter Shelter. The shelter is operated by Christians Together and provides 12 beds and hot meals for people who would otherwise be rough sleeping. The Council ensures that temporary accommodation is offered to anyone sleeping rough if the temperature is forecast to reach zero degrees or below.
The Council works closely with this and other voluntary and faith groups to support anyone who finds themselves homeless or is threatened with homelessness In the last year almost 400 people have been supported by the Council to resolve the broader issues that can lead to homelessness. This could be issues with landlords, debt or support to assist victims of domestic violence.
The Council also commissions Horton Housing to provide a 'No Second Night Out' service, which aims to engage with rough sleepers and help them move into permanent accommodation.
Calderdale Council's Cabinet Member for Planning, Housing and Environment, Cllr Daniel Sutherland, said:
"Unfortunately, homelessness is on the increase nationally and signs are that this trend is reflected in Calderdale. Reducing homelessness and rough sleeping is a priority for the Council and we do our best to engage with anyone who is at risk of homelessness and support those who are sleeping rough.

"Many people are rightly concerned about people who are sleeping rough, particularly during the recent cold spell of weather. We'd always encourage people to contact the Council if they have concerns about anyone they think may be sleeping rough.

"Other ways to further support the homeless in Calderdale is to volunteer with one of the voluntary groups, such as Christians Together Calderdale or St Augustine's in Halifax."
To report any concerns about rough sleepers contact Customer First on 01422 288001 or report through the Council website.
If you believe you are at risk of losing your home there are drop-in sessions at Halifax Customer First on Monday, Wednesday and Friday with free and confidential advice to anyone who has housing problems, is homeless or threatened with homelessness.